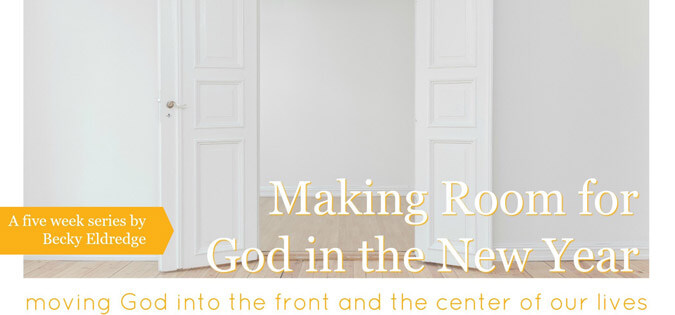 Dear dotMagis Readers,
I don't know about you, but for the last few weeks I've been readying my calendar for 2017, making goals and resolutions, and beginning anew. Maybe you're in a similar mode right now—preparing, looking ahead, planning, and refining. A new year provides us with a fresh start and a chance to reset our thinking about what's to come. As we go through this annual process, are we allowing God to be part of it? Is there room for God?I invite you into my digital home to join me for a series that I am offering January 23 through February 20, 2017, called Making Room for God in the New Year.
Making Room for God in the New Year is not about clearing out a corner of our room to display God up on a shelf, nor inviting God into our lives only to then tuck God quietly into a drawer. It is about moving God into the front and the center of our lives. Throughout the series, you will receive a weekly e-mail that will include an opening reflection, suggested exercises, reflection questions, and additional resources. The week's themes are:
Week 1: Making Room for God
Week 2: Readying the Space for God
Week 3: De-cluttering
Week 4: Inviting God into the Heart of Our Homes
Week 5: Living Life with God
My hope is by the end of the series, both you and I will have clarity on how we will make room, or more room, for God in our lives and what are some of the steps God is inviting us to take in 2017. To subscribe to this free series, register here.
I hope you will join me!
Peace,
Becky