As we move out of the Christmas season and into the New Year, my family is cleaning up the last decorations and storing away extra gift wrap and boxes. It reminds me of a prayer from many Christmases ago, when my spiritual director suggested praying about what gift I'd like to offer to Jesus and what gift I thought he might be offering to me. This suggestion was given at a particularly difficult time in my life when I was experiencing many losses, and the idea that God might still have many graces to offer comforted me.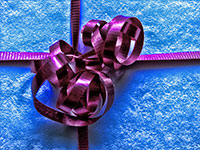 One evening I prayed that Jesus handed me a large wrapped box with purple ribbon. I opened the box and searched around inside with my hand. After a time of searching, I came up only with purple and gold tissue paper. In an instant, I realized that the gift was the empty box. The emptiness itself was a beautiful gift: indifference.
Ignatius's idea of indifference describes the idea that we must hold all earthly goods in balance before God and be willing to accept the coming and going of all limited goods. Especially in a time of grief, the idea that I had yet more to "give up" to God held little appeal for me. The image of the gift box, however, helped me to re-envision the concept of indifference. I suddenly understood that indifference is not about giving up or stoically renouncing God's good gifts, but rather about making room to be receptive to the new gifts that God constantly wishes to offer. Life is constantly changing; not only external goods and relationships but also our very selves change and do not remain wholly stable over the course of a lifetime. Loss remains difficult. Yet if we do not cling too tightly to the gifts (or hurts) of the past, we make ourselves more receptive to new graces: the beauty of fresh snowfall; the possibilities in a new yet unformed friendship; or the freedom to follow new pursuits to which God calls us.
This year as we store away our old boxes and start up New Year's resolutions, the idea of indifference as receptivity can assist us. I still struggle with indifference in the midst of change, but the image of the gift box reminds me that emptiness is less about absence than about a continued openness to receive.