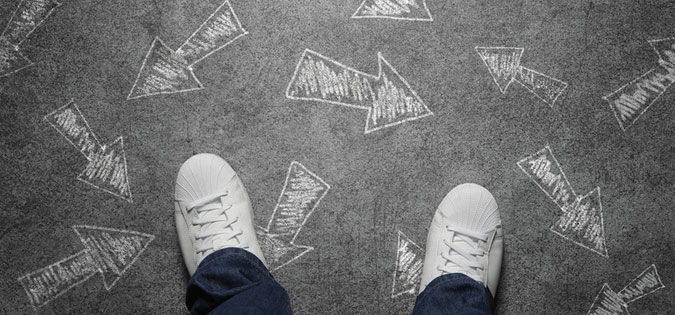 The endpoint for the Christian—one who follows Jesus of Nazareth—is to imitate him in bringing God's kingdom to earth through loving God and all creation.
"Beloved, we are God's children now; what we will be has not yet been revealed. What we do know is this: when he is revealed, we will be like him, for we will see him as he is." (1 John 3:2)
That endpoint of being "like him" is meant to govern our ongoing discernment, day by day. What helps me become more like Christ? What hinders me? What enhances my participation in God's kingdom on earth? What diminishes it?
It's not always simple to make decisions—whether mundane or major—based on these criteria. For instance, which college or university will more likely help form me as a Christian? What if it's not the best university at which to receive my professional training? Is it better to choose a place that is more secular but better professionally, or one that will nurture me spiritually but not prepare me as well for my chosen career? Is it possible that I can attend the secular university while relying on other community resources for my spiritual needs? How much of a social person am I—will I be influenced easily by the other students around me? Or am I a self-starter who can coexist with many different kinds of people (and beliefs) while staying my own course?
On the site Marquette.edu/faith, the article "Some Ignatian Principles for Making Prayerful Decisions" includes the following:
Not confusing ends with means: Ignatius comments: "It becomes obvious how easy it is for me to forget such a simple truth as the end and goal of my whole existence when I consider the manner in which choices are often made. Many people, for example, choose marriage, which is a means. They then only secondarily consider the service and praise of God our Lord in marriage, though to follow God's lead in my life is always our human project. Many people first choose to make a lot of money or to be successful, and only afterwards to be able to serve God by it. And so too in their striving for power, popularity, and so on. All of these people exhibit an attitude of putting God into second place, and they want God to come into their lives only after accommodating their own disordered and self-centered attachments. In other words, they mix up the order of an end and a means to that end. What they ought to seek first and above all else, they often put last." (Spiritual Exercises, [169])
The point is to allow the overall purpose of growing in our relationship with God to guide the more specific purposes within a life. Will this prospective husband or wife enhance your life with God or pull you away from it? Will earning more money now distract you from God's kingdom—or put you in a better position to serve God by freeing you financially to support an important work or give more of your time to ministry? What desire energizes your decision: the desire to spend more money on stuff or the desire to be free and able to contribute more to what is important in God's kingdom? Do you desire marriage because you're convinced that this person is the right one to join you on your journey with God? Or are you afraid to be alone—or desperate to get away from your current life and start another?
Some of these questions are a bit harsh. However, we're talking about the direction of a whole life—and about decisions that will help us live out our purpose as God's beloved or thwart that purpose for years to come.