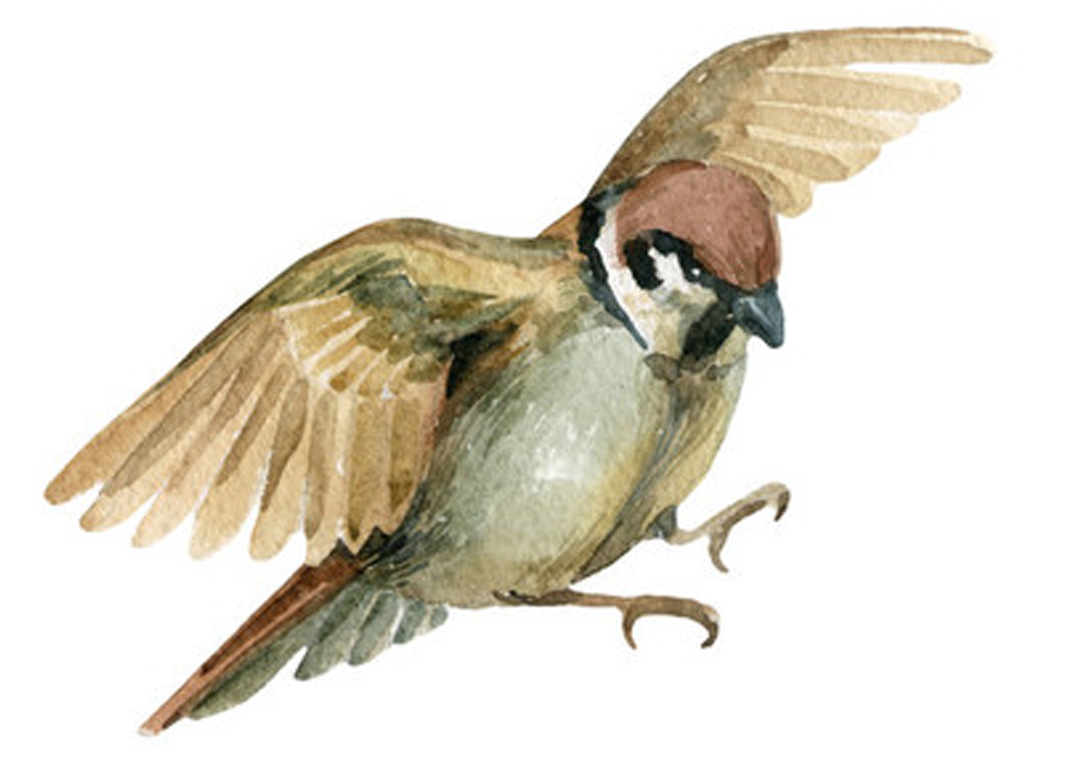 I stepped out of the car and found myself wrestling my raincoat away from the wind. Through the driving rain, something in the corner of my stairs caught my eye. Was it old leaves? Inching closer, I saw that it was a tiny, shivering sparrow, its feathers flattened by the rain. It didn't budge, even as my foot settled onto the step on which it huddled. Not a good sign. I wanted to scoop it up and let it warm up inside the house, but I knew this wouldn't be best for the bird. So, instead, I hurried inside and grabbed a handful of birdseed, another handful of shredded coconut fiber that my son had leftover from a project, and a soda capful of orange juice. I slowly descended the stairs. With bowed head, the bird peered at me through wide eyes but still didn't move an inch. I gently placed the pile of coconut fiber on the step between the bird and the house and the pile of birdseed and capful of orange juice right below its beak. I said a prayer as I went back inside, leaving it in God's hands.
The sparrow came to mind again as I revisited Matthew 10:29–31: "Aren't two sparrows sold for only a penny? But your Father knows when any one of them falls to the ground. Even the hairs on your head are counted. So don't be afraid! You are worth much more than many sparrows."
If sparrows were sold today, I suppose we might say that they would be "a dime a dozen." Yet God knows when even one "falls to the ground"—or my stairs. This passage paints the picture of a Creator who is intimately involved in creation, a Creator who cares enough not just to set creation in motion but also to see each creature lovingly through its life. By extension, we can assume that God sees even the tiniest things we do for God's creatures, big and small—not just the newsworthy events but even the little blips in our days. Our days are filled with opportunities to interact with God through creation.
I went back outside about a half-hour later. The bird had moved into the pile of husk, eaten some seed, and drank most of the juice. It was much more alert. A couple of hours later, it was gone.
St. Ignatius said, "All the things in this world are gifts of God, presented to us so that we can know God more easily and make a return of love more readily. As a result, we appreciate and use all these gifts of God insofar as they help us develop as loving persons." (Principle and Foundation, Fleming translation) God put that sparrow in my path so that I could "know God more easily and make a return of love more readily."
Our days are filled with these little gifts and invitations from our Creator. How often do we notice the gifts and accept these invitations to know God more? And, if we "are worth more than many sparrows" to God, and if God cares enough to know when even one sparrow "falls to the ground," how great is God's care for us!
---
Join us Wednesday as we begin our annual 31 Days with St. Ignatius celebration, reflecting on experiencing God in the ordinary!