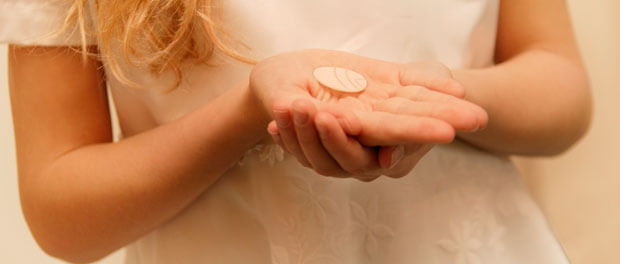 In the summer I try my best to go to daily Mass. I'm a high school teacher, so I have plenty of time to do so. But during the last month I made a serious commitment to build up a new film company, and I've found the work to be overwhelming. The work never stops and there's an unending number of new projects, opportunities, and people to meet, so that I somehow convince myself that I don't have to go. There's just too much to do.
I'll be the first to admit that I'm a workaholic. I've read countless books on how to set goals, how to get more done, and how to make the most effective list to maximize productivity. Like a "good American," I love the feeling of earning my success.
Ironically, I think this is the reason I try go to daily Mass in the first place. I get so focused on my goals, my work, what I can do next, what I can give next. It's safe to say that I'm addicted to being busy. One of the reasons I go to Mass is to practice letting go, to extend my hands wide open, and to (attempt to) surrender my desire to control everything—to earn everything.
There's something about the experience of receiving Holy Communion that enthralls me. I love walking up to the altar slowly, with the community, each person holding on to his or her own struggles and then at the final moment opening our hands. I find it to be so childlike and vulnerable. Opening my hands can actually be somewhat scary. I'm leaving it all out there, surrendering all of my control. I get nervous when I'm in line, but I find myself experiencing God's healing touch in my own two hands when I receive the host. After this, the only prayer that's left for me to utter is, "Thank you."
It's with these open hands—through my sense of touch—that I am able to encounter God's unmerited love in a very real and tangible way. It has always been a space for God to touch not only my hands but more importantly my heart. The sacrament challenges me to let go of my unrealistic expectations, to break out of the shell of my own selfishness, and most of all, to be patient with myself. Although I can sometimes trick myself into working all day, when I go to Mass with my hands open, I receive a tangible reminder that God has much bigger and better plans for me.
---
31 Days with St. Ignatius (hashtag #31DayswithIgnatius) continues with today's feature, Stay in Love by Marina McCoy.