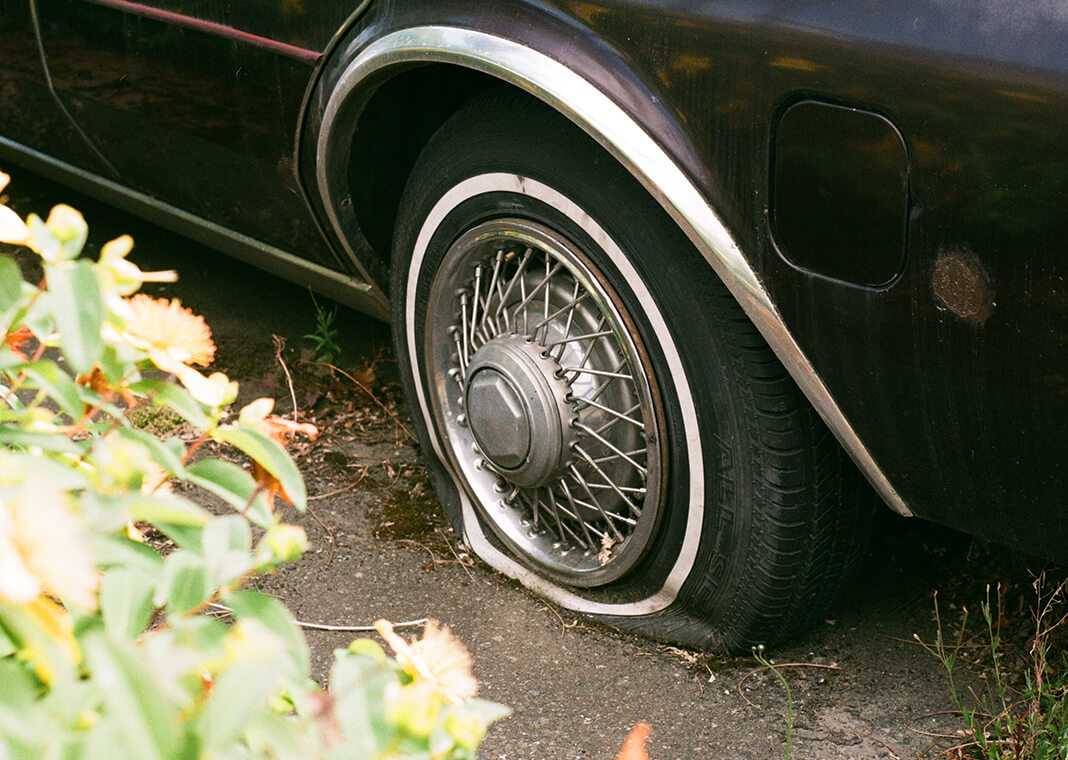 Every year for the past few years, I have chosen a word of the year. I do not have an elaborate process for choosing this word. Most of the time, the word comes up in my writing and reflection towards the end of the previous year. For 2020, my word was grace. It ended up being a year when I needed that word more than I realized.
Grace carried me through the roughest moments of 2020. Grace reminded me that God always has something to offer me, even when I have nothing to offer back to God. Despite the difficulties that came with 2020, I felt that grace was showered on me in abundance. I hope it was for you as well.
A few weeks ago, I was not yet thinking about what my word for 2021 would be when it popped into my head after a conversation with a colleague. She had discovered a car in the parking lot with a flat tire, around 9:00 a.m. on a busy Monday. When I learned it was my flat tire, I immediately felt frustrated by the whole situation. Now I have to call for help to change the tire. Then I have to get the car to the tire shop to replace or repair it and then get back to school probably hours later. This is going to ruin my morning.
In the middle of calling for roadside assistance, I went up to my colleague to verify that the car was, in fact, mine. As I examined the photo on her phone, I whined aloud, "Oh, this is all I need today!"
She just looked at me and said bluntly, "What if I hadn't seen it, Gretchen, and you discovered it when the day was over, and it was time to pick up your kids?"
I thought about that comment through the next couple hours of getting my car fixed. At first, I wanted to push it aside. After all, I just wanted to wallow a little in how bad my morning was going to be. As I continued to think about those words, however, I began to realize how quickly I jumped to the most negative (and ridiculous) of conclusions. In fact, I realized, I did this a lot—jumping to the worst conclusion before examining a situation from all angles.
As I was sitting in the tire shop all masked up and waiting for my car, the word perspective popped into my head. As soon as it was in my head, I tried valiantly to shoo it away. Not this word, Lord, I thought. Grace was beautiful. It was edifying. It was just for me. This word is challenging. Why would you want to challenge me in 2021 after the year we've all had?
The word just would not leave me alone, however.
In the Spiritual Exercises, St. Ignatius challenges retreat directors to consider perspective when they are working with retreatants. He invites them, before making any corrections or adjustments to a retreatant's thinking or commentary, to try and see why the person has said what he or she said or why the retreatant believes what was said to be true from the retreatant's perspective. Ignatius invites the director to try and understand why a retreatant has taken a particular stance. He wants the director to explore what's behind what the person is saying, believing, or practicing. When there are two ways to interpret what another person is saying, one should assume good intent first.
The same could be true about situations as much as people. When there are two ways to interpret a situation, St. Ignatius would invite us to assume the positive outlook first, I believe. We should look for the reasons why a situation is not so bad or could lead to something good in the end. This is such a challenging invitation, though, even when I know it will improve my attitude tremendously!
We are already one week into 2021, and I am still struggling with the word perspective. But I cannot imagine a better word to help me enter this year. Now, more than ever, we are being invited to consider the perspective of our fellow human beings. Now, more than ever, we are invited to try to see the positive before the negative of every situation. It's what's going to give us the strength we need to move forward. It's what's going to give us the compassion we need to work together for a better world.
How can the word perspective inspire your heart as you begin the year?
Photo by Sebastian Huxley on Unsplash.