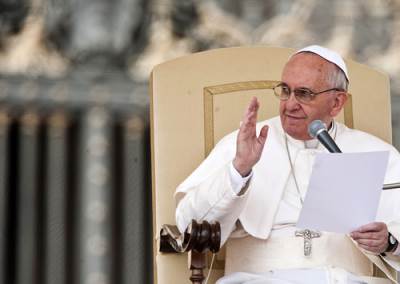 Jesuits are known for their distinctive "way of proceeding." Pope Francis is showing a distinctive way of speaking. Blogger Matthew Schmitz collects some of the striking phrases Francis has coined. It's hard to imagine Benedict or even John Paul II talking like this:
"Babysitter church." "When we don't  [announce Jesus with our lives], the Church becomes not a mother but a babysitter church, which takes care of the child to put him to sleep."
"Teenagers for life." "How hard it is, in our time, to make the ultimate decisions! The temporary seduces us. We are victims of a trend that pushes us to the temporary . . . as if we wanted to stay teenagers for life!""Mr. or Mrs. Whiner." "A Christian who constantly complains, fails to be a good Christian: they become Mr. or Mrs. Whiner, no?"
"Middle class of holiness." "There are the saints of every day, the 'hidden' saints, a sort of 'middle class of holiness' to which we can all belong."
"Charitable NGO." "We can walk as much as we want, we can build many things, but if we do not profess Jesus Christ, things go wrong. We may become a charitable NGO, but not the Church, the Bride of the Lord."
Photo by
Catholic Church (England and Wales)
 under a Creative Commons
license
.