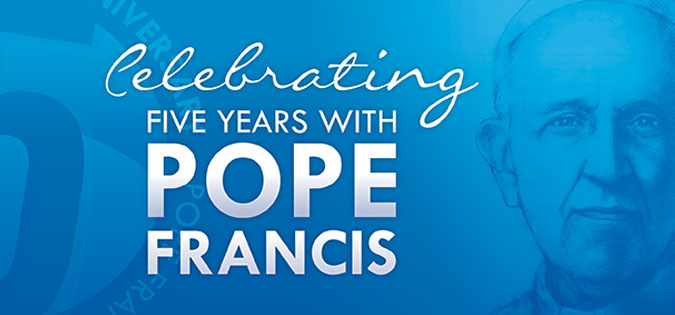 As an editor for a Jesuit publisher, I was on high alert the moment the world learned that Argentinian Jesuit Jorge Bergoglio had become the new Pope Francis. Many of us didn't know who this man was. What was he like? What kind of pope would he be?He did not leave us in suspense for long. From his first moments on that balcony at St. Peter's, facing his new flock, when he gave a simple greeting and then asked all to pray for him, we had a strong sense about Pope Francis. We liked his smile immediately; he looked sort of like a favorite grandpa—there was kindness and a glint of humor but also a glow of humility and awe.
Our next question was, Is this first impression accurate? Or will he put on another face and manner when the job really kicks in? Yet, Pope Francis has walked through his crowded days and full schedule for the past five years with the same engaging smile, the same humble demeanor, and the same core messages he communicated early on.
Mercy continues to be a major theme of his papacy.
He does not flag in speaking to power about abuses of the planet and of populations.
Pope Francis preaches fervently and consistently about the need for justice.
He continues complex conversations with clergy, religious, and laypeople about the issues that are most critical for ordinary people who are trying to follow Jesus.
He does not let up on clergy regarding their responsibilities to those whom God has placed in their charge.
Every day and in every place, he conveys to every person that God welcomes him or her.
I know these are simplified statements; I admit to generalizing because there's not enough space in one post to delve specifically into what Pope Francis has said and done. However, I do think it's clear that his messages have not wavered, regardless of who might disagree with them—and I know that some Catholics disagree with the Pope on various issues.
I appreciate that Pope Francis is a good theologian, that he has a true pastor's heart, and that he seems truly fearless because he knows that he is where God has placed him. I'm grateful for his deep understanding of Scripture, his general atmosphere of calm, and the obvious joy he experiences when reaching out to people, no matter who they are.
Much of what people like about Pope Francis can be partially attributed to his formation as a Jesuit. He has developed, over the decades, a "way of proceeding," something that provides stability but also allows him to be adaptable and flexible as situations call for it.
These days, one of the Pope's greatest gifts to us is his hope. From where he sits, he is aware of so much pain and catastrophe around the world. Undoubtedly, every day he receives reports of what is happening on this globe and how the Church must respond. But, even knowing all he does, he maintains that God's love will have the last say and that God's mercy renews creation (including us) day by day.
If you'd like a helpful dose of Pope Francis's hope, then click here to learn about On Hope, our latest book of his wisdom and love. For more resources celebrating five years with Pope Francis, click here.