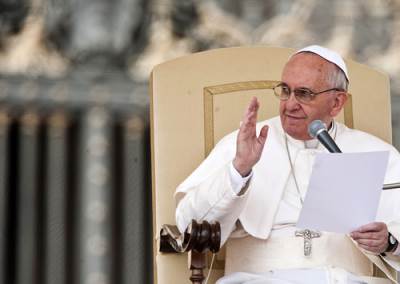 Cardinal Jorge Bergoglio was elected Pope 100 days ago today. That surprised me; it feels like Pope Francis has been around longer than that. He's a humble man who's become a big presence in the Church and the world. We've quickly grown comfortable with him.
I've gotten into the habit of reading the homily he gives every morning at Mass at the Casa San Marta, published every day by Vatican Radio. Here he's speaking to church insiders–bishops in Rome on business, workers in Vatican offices, officials of Catholics organizations and movements. The pope speaks personally, off-the-cuff, fervently. Much of the time he warns about the complacency that can creep into the lives and attitudes of church officials. He's denounced careerism. He constantly calls for openness, for positive action, for love that is expressed in deeds rather than words. I listen to his words carefully. I work for the church too.
Photo by Catholic Church (England and Wales) under a Creative Commons license.