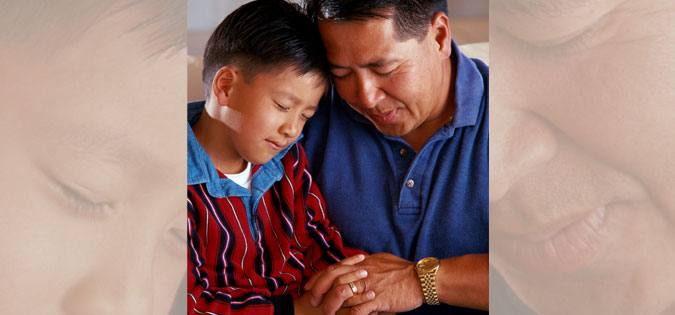 Over the last few months, I've had the opportunity to be with many groups discussing my book, Busy Lives & Restless Souls. Inevitably, after discussing how to make time for prayer in each person's life, the conversation turns to, "How do we incorporate prayer in our family's life?"
I always chuckle and say, "I am not expert in how to incorporate prayer in family life, since so much of what we do is figuring it out as we go."
Our family uses a core value statement to guide our desire to make prayer part of our family life: As a family, we seek to root our life in God. This principle, combined with the understanding that we are the primary educators of our children's faith, is our catalyst for building a foundation of prayer in our children's lives. Our goal is to teach our children a wide variety of prayer tools that they can hopefully use throughout their lives.
Here are four ways we help our children build a prayer toolbox:
Christian Music: Our family enjoys music, and one of the varieties of music we expose our children to is Christian music. There are playlists on our phones that include our family favorites, and as we discover new selections we add them to the rotation.
Prayer Box: We take turns leading night prayer in our family. Recently, we made a prayer box that includes prayer tools and resources such as books (prayer books, storybooks, and books on saints), candles, paper and pencils, a Bible, rosaries, question cards, and a prayer cube. (The child rolls this cube that has prayers on each side and says the prayer on the side on which it lands.) The prayer box helps whomever is leading prayer have resources to lead.
Prayer Bowl: A family member gave us a prayer bowl to collect small cards on which we write our intentions for other people. We remember the intentions as part of our prayer.
Prayer Methods: My husband and I try to expose our children to various prayer methods including spontaneous prayer, memorized prayer, praying the Rosary, reading the Bible, listening to music, praying for others, and even praying the Examen.
Our children's ability to participate and lead prayer matures as they get older. Giving them the chance to lead prayer increases their buy-in and also expands our repertoire of prayer methods we utilize in our family.
As a mother, I'm very curious to hear from others: What do you do to incorporate prayer in family life?