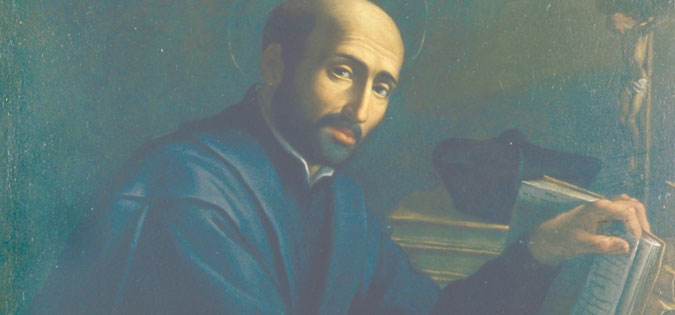 St. Ignatius must have thought a lot about how to manage oneself in the face of serious differences of opinion. Part of the answer was how he used his communication skills. What pearls of wisdom for communicating well can we glean from Ignatius for our own use?
1. Assume the best in others.
Ignatius advised:
It should be presupposed that every good Christian ought to be more eager to put a good interpretation on a neighbor's statement than to condemn it. Further, if he cannot interpret it favorably, one should ask how the other means it. If that meaning is wrong, one should correct the person with love; and if this is not enough, one should search out every appropriate means through which, by understanding the statement in a good way, it may be saved (SE 22).
He gave people the benefit of the doubt and encouraged level-headed communication.
2. Create environments of "greater love than fear."
As Chris Lowney puts it in his book, Heroic Leadership, "St. Ignatius advised his brothers to 'govern using "all the love and modesty and charity possible." In this way, 'young Jesuits could thrive in supportive, encouraging, and positively charged environments'" (32).
3. Be humble.
Ignatius preferred a humble approach modeled after that of Jesus, who humbled himself to the point of death. Ignatius encouraged open-hearted exchanges and seeking to understand the other so as to come to a common ground.
4. Be respectful.
Ignatius saw God in all things and in all people (SE 235). He reminded his followers that all people are made in the image and likeness of God and that God dwells in each of us. As such, mutual respect is a non-negotiable element of communication.
5. Be good listeners.
Ignatius said that, "We should be slow to speak and patient in listening to all…Our ears should be wide open to our neighbor until he seems to have said all that is in his mind" (Thoughts of St. Ignatius Loyola for Every Day of the Year, 39). A contemporary adage seems to elaborate on Ignatius's words: "The biggest communication problem is we do not listen to understand. We listen to respond."
6. Tread lightly.
Ignatius advised that if one must correct another, it ought to be done "without hard words or contempt for people's errors" (Tylenda, A Pilgrim's Journey: The Autobiography of Ignatius of Loyola).
7. Don't go it alone.
Ignatius asked for God's help in all his endeavors. He knew that no matter how much he planned, if he didn't keep Christ at the center his life, his plans would be fruitless. Ignatius was well aware that God can accomplish more in an instant than Ignatius could in a lifetime of planning.
Today, brothers of St. Ignatius like Pope Francis continue the Ignatian heritage of positive and purposeful communication. Pope Francis reminds us that Christians are called to be:
people who propose hope with their way of welcoming, smiling, loving. Especially loving: because the strength of the resurrection makes Christians able to love even when love seems to have lost its reasons. There is a "something more" that inhabits Christian existence, which is not explained simply by the force of mind or greater optimism. It is as though believers were people with an extra "piece of heaven" above them, accompanied by a presence that one cannot even intuit.

…So, the true Christian is like this: not complaining or angry, but convinced, by the strength of the resurrection, that no evil is infinite, no night is endless, no man is definitively wrong, no hatred is invincible to love. (General Audience, October 4, 2017)
The Ignatian style of communicating is rooted in this hope of which Pope Francis speaks. In this divided world, let us be ambassadors of hope.