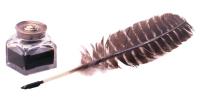 Explore Faith suggests a process for praying with poetry. Several poems are on the site, but the method will work with any poem. Here's the process next to "Otherwise," by Jane Kenyon.
One of the steps suggests journaling responses to various prompts, including "If I were to paint a picture about this poem I would include [in] my work of art"¦"
Have you ever prayed with poetry or works of art? What has been your experience with these forms of prayer?