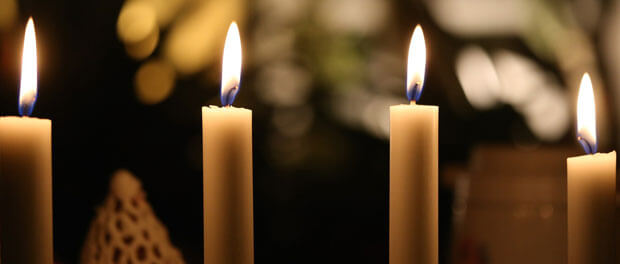 I take pride in being prepared for anything. Advent is a time of preparation, so it should come as no surprise that I have always rather liked Advent.
As I sat at Mass listening to the homily for the First Sunday of Advent, I was reminded of what we're preparing for during Advent: the Second Coming of Christ. The readings from the First Sunday of Advent this year seem rather ominous. A sort of "woe to the one who is not prepared" theme weaves its way through the readings. Listening to them, I found myself wondering how on earth I was to prepare for something for which I wasn't given any details. It's hard to prepare for something completely unknown, even for a "Type A" personality like me.
Take marriage for instance. My husband and I took marriage prep and dutifully worked through our marriage prep workbooks together with great excitement for our new lives together. While we learned some valuable things, nothing in those sessions could have prepared us for the reality of actually living out our vows each day. We have hit some completely unexpected moments in our marriage for which no course could have prepared us.
Similarly, my husband and I both attended university and took our classes very seriously in preparing for our respective careers, but we could never have dreamed that our careers would have taken the path they have.
The harsh reality is that as much as we may want to be prepared for everything that we encounter on our life's journey, we simply cannot predict the future. No amount of preparation can account for life's unexpected twists and turns.
All hope is not lost, though. Just as marriage prep armed us with the tools of communication, and school taught us how to manage crazy workloads to meet deadlines, the Church gives us countless tools to help us prepare our hearts. Perhaps we can use Advent to dust off some of them. St. Ignatius Loyola would be quick to suggest the Examen as one of the spiritual tools to use daily. We might also imagine a conversation with Jesus on Judgment Day, using an Ignatian prayer technique. Perhaps this Advent we are called to participate in a faith formation opportunity, which might include private devotional reading or attending a parish-sponsored event. Spending some time in front of the Blessed Sacrament and celebrating the Sacrament of Reconciliation are also some great ways to help us prepare ourselves for Jesus' coming.
It's hard not knowing what to expect or when to expect it. We simply have to have faith that God has given us the tools to prepare not only for the Second Coming, but for all the unexpected moments we'll encounter on our journey. If we use these spiritual tools well, we can hope and pray that the conversation at our entry into Paradise will end with, "Well done, good and faithful servant."