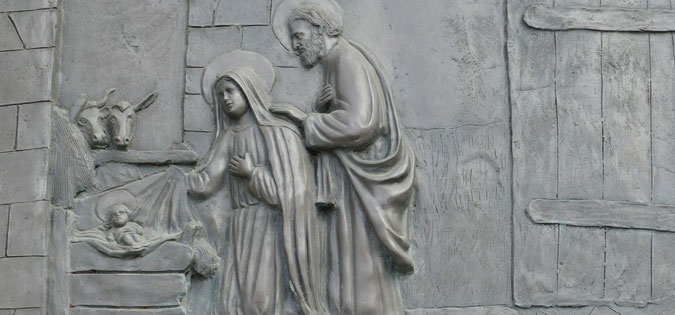 Ignatian contemplation allows the Spirit to bring to light important aspects of the Gospel that inform us along our spiritual journeys. This year, my contemplation on the Nativity—which I shared here—highlighted the following:
Amidst the hustle and bustle of the marketplace, no one saw Mary in labor with the Christ Child. Where have I missed the opportunity to respond to Christ among us?
Mary did not become upset when there were no rooms at the inns. She just trusted that, with God, everything would be ok. When things are difficult, do I look to Mary to learn from her grace-filled ways and profound trust in God?
Unlike the sanitized nativity scene we see on Christmas cards, the events of that night were far from perfect. Mary gave birth in a dusty, smelly stable. There was no bed, no clean linen, no birth plan, no anesthesia, no comforts at all. Yet, in this real and imperfect setting, God came to earth. Do I think that I need to be perfect or that my prayers need to be perfect or that my life needs to be perfect before I can concentrate on God and ask God to come into my life?
How often do I allow myself to "just breathe" in Jesus' presence like Mary did after Jesus was born? How often do I allow myself to feel the peace and love that Jesus showers upon me when I rest in him?
This Christmas season, I invite you to take some time to sit prayerfully in Ignatian contemplation on Luke 2:1–7. What does the Spirit bring to light for you?