No kid stuff to plaster all over my refrigerator with fruit magnets, just stuff that has captured my attention. Mostly images, snippets of scripture, prayers.
Some stuff, like the laminated Sacred Heart of Jesus card from a funeral back in 1996 has been posted on at least three different refrigerators since then.  The chart with Shabbat candle lighting times for Baltimore, Maryland is about to be replaced when 5772 blows in on September 29.
One recent addition is a Heloise Hint about using isopropyl rubbing alcohol to clean laminate flooring. Even if I stop seeing what I'm looking at every time I'm in front of the cold food box, I'm comforted by knowing a St. Jude medal and prayer is there.
Actually, I've pretty much stopped looking and seeing. Everything on my refrigerator has pretty much faded into wallpaper — except during those times when everything springs back into more-than-full-focus. Veni Sancte Spiritus!
This morning was one of those times.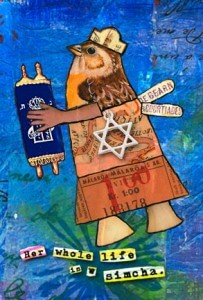 The much-loved prayer attributed to Fr. Arrupe, SJ has been on my refrigerator for ages upon ages. But this morning I suddenly noticed how the well-known first line, "Nothing is more practical than finding God" is wonderfully framed by a magnet declaring, "Her whole life is simcha."
Simcha (Hebrew: gladness or joy or celebration)