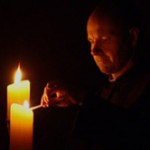 The most basic spiritual practice is learning silence.  Practicing silence is an act of faith precisely because one cannot know for certain that anything is to be gained from it.  It might be a waste of that most precious commodity: time.
What the Christian spiritual tradition teaches us, though, is that the practice of silence is the prerequisite for coming to know God.  Benedictine Christopher Jamison of Worth Abbey (whose book Finding Happiness I described here) says it well: "Silence is a gateway to the soul, and the soul is the gateway to God."  (More on silence at my new column on Patheos).  He makes this comment in the context of a new BBC 2 program, "The Big Silence," in which 5 ordinary people agree to practice the discipline of silence in the context of both the monastery (Worth Abbey, in Sussex) and a Jesuit retreat center (St. Beuno's, in Wales).
The people on the show are remarkably honest about how difficult yet rewarding it is to begin the practice of silence.  I am convinced–and Jamison says it in the show–that the practice of silence is, no less than physical exercise, a necessity for the good life.  We can live without taking care of our bodies, and we can live without taking care of our souls, but we will not live well.  We will not learn the fruits of these exercises in self-care which, in the end, are ways of rendering thanksgiving to the God who entrusted us with souls and bodies in the first place.
A last point.  Learning exercise after a sedentary life takes patience, tenacity, courage, and the willingness to tolerate setbacks.  Similarly, learning silence (as the participants in the show illustrate) takes all these things.  We do well to remind ourselves of what we strive for: to surround ourselves with saints the way athletes surround themselves with role models.
In these closing days of the holy season of Advent, let us remember the counsel of Mother Teresa: "The fruit of silence is prayer, the fruit of prayer is faith, the fruit of faith is love, the fruit of love is service, the fruit of service is peace."