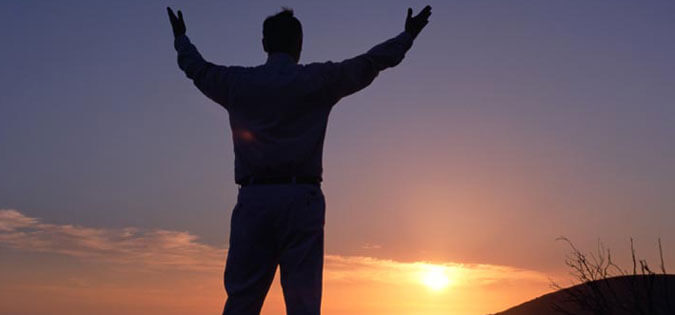 Sometimes we try too hard at prayer. We make it complicated. We load it down with expectations. If I pray really well, then I will come away inspired, or I'll have a question answered, or I'll feel happy, or I'll have learned something.
Let's use the not-quite-so-intense season of summer to lighten up a bit on prayer.
"If the only prayer you ever say in your entire life is thank you, it will be enough."
—Meister Eckhart
One of the features of Ignatian spirituality is an emphasis on gratitude. So, for your prayer today, just say "thank you." If you want, be more specific. But "thank you" is a real prayer, and not only does it communicate gratitude to the One from whom all blessings flow, but it also adjusts our attitude as we express it.
"Help me, oh help me, God my God, save me through your wonderful love."
—Psalm 109:26, The Message, Catholic/Ecumenical Edition
It seems that I am least likely to pray when the day is going wrong. Usually when that happens, I'm in a bad mood and not at my best, and I'm not eager to bring this angry, grumpy self to God. But that's probably when I most need to pray. When we need help, we should simply ask for it. Sometimes when I ask for God's help, it's with my arms flung out in frustration as I say something like, "Lord, could you help me with this mess?" Quite a good prayer, actually.
"Wow is the praise prayer. The prayer where we're finally speechless—which in my case is saying something."
—Anne Lamott, author of Help, Thanks, Wow: The Three Essential Survival Prayers
(You might notice that Lamott's title inspired today's post.)
When we stand in awe—of the ocean, of a baby's first steps, of a work of art that transforms us—we are "doing praise." Praise does not always involve language, but it does require alertness to the good. On any given day or hour, we can choose to pay attention to the good and acknowledge it, and that's a good prayer.
This week, try your own experiments with "Thank you," "Help!" and "Wow."
---
This post is part of a series: Praying Through the Summer.