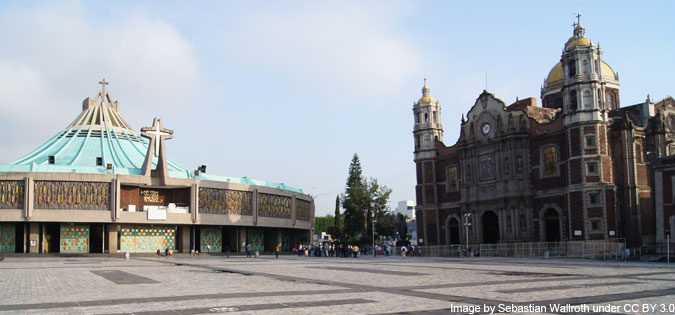 St. Ignatius referred to himself as a pilgrim, and many followers of the Ignatian way have used special times of pilgrimage to encounter God more deeply. Today we highlight three examples.
Fr. Michael Sparough, SJ, made a pilgrimage to the famous shrine of Our Lady of Guadalupe in Mexico and encountered great generosity and hospitality, as he explains in this five-minute video.
Fr. Casey Beaumier, SJ, also did a pilgrimage during his early formation as a Jesuit. Beaumier and his pilgrimage partner began on the Appalachian Trail, where they encountered changing weather, a variety of hiking companions, mouse invasions during the night, and good conversations around campfires.
It seems to me that there's a temptation along the pilgrim way to feel that the journey is meant to be lonesome and solitary. Isn't a person supposed to figure out everything by him- or herself? Sometimes the journey can feel like this, but it doesn't need to be this way. Mentoring can be quite important on the journey. It is a gift to be able to ponder the future while looking to the example of others who are well along the journey of life, those who inspire us by the way they live. It is good to listen to them and ask them questions about what they have seen and what they have learned. Pride makes a person feel that he should not seek advice or good counsel. On our journey along the Appalachian Trail, we depended on the insights of those who had gone before us. At that time on the trail, people left journals at the shelters, and hikers would spend time reflecting on their experiences at a particular shelter or part of the trail. For example, some people noted in the journal if and where they had spotted wildlife. (We wrote about our experience with the mice in that shelter's journal!) I liked that the advice was there for the taking; I could choose to read it or not to read it.
—Excerpted from A Purposeful Path: How Far Can You Go with $30, a Bus Ticket, and a Dream?
Sometimes a pilgrimage is undertaken by a group for a particular purpose. One such pilgrimage currently underway is the Canadian Canoe Pilgrimage. Undertaken as Canada celebrates its 150th birthday, the pilgrimage brings Jesuits and indigenous people together to follow the route of Jesuit missionary St. Jean de Brébeuf and his First Nations guides. As the website of the Jesuits of Canada and U.S. Provinces explains:
The journey…aims to promote deeper intercultural dialogue and understanding. By immersing Indigenous and non-Indigenous people in each other's customs and traditions for a month, the Canadian Canoe Pilgrimage hopes to foster respect, trust, dialogue and friendships—building blocks for reconciliation.
Whether undertaken alone or with a group, pilgrimage can be a time of learning trust and finding or building community. Have you embarked on pilgrimage? What lessons did it teach you?
Image of the Basilica of Our Lady of Guadalupe by Sebastian Wallroth [CC BY 3.0], via Wikimedia Commons.