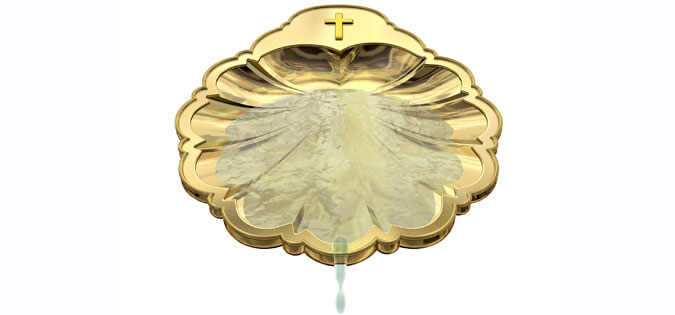 I watched the five-year-old children in swimsuits step gingerly up to the font. Climbing the two stairs up seemed pretty easy, but every one of them waited before taking two steps down. What was their hesitation?
Every eye in the packed church was focused on the font as the four children waited their turns. Excitement was building among the assembly, as if each of us was willing the children to step forward. We held a collective breath as they held themselves back. Didn't they know an extraordinary moment was right within reach?
When the elongated seconds finally gave way and a child slowly stepped down, the congregation breathed again. Each child cringed in anticipation before the warm water was poured on his or her head. What were they expecting? What had they been told?
Each one relaxed and enjoyed the flow of moisture. Their trepidation was gone. Once baptized, they knelt in the font, savoring the waters. Now they didn't want to get out!
Smiles broad afterwards, each child stepped from the font to be wrapped in fluffy white towels. I saw a rich symbol of the love surrounding them in this congregation.
Two sets of twins were baptized at Sunday Mass. The parents served as godparents for each other's children. The mothers were sisters.
We applauded raucously. Where did this joy come from that welled up within the already baptized? Was it the ability to be witnesses to this ordinary yet exhilarating ceremony? Was it the uniqueness of two sets of twins?
Next, a baby from another family was dipped into the waters. I felt like I'd witnessed a miracle. Baptisms don't happen every week at our church. At the same time, it's a common enough sight to witness a Baptism.
The symbols of our faith are profound. Simple, everyday water evokes images, expectations, and dread. I'm reminded of experiences of joy, comfort, and new beginnings.
And after the Baptisms, an enthusiastic presider took a pine branch and doused the congregation, some of whom cringed—as the children had—when the cool droplets hit their pew.
Perhaps we all fear something new, remember moments of hesitation, and give thanks when with courage we take the plunge and encounter an enveloping love. Our worst fears are unfounded.
As I remembered my own initiation into God's growing family, I pondered the joyous miracles which come to pass in ordinary times.