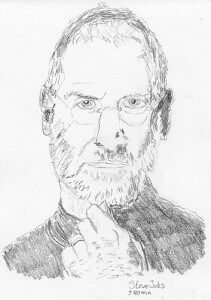 A couple of Jesuit editors have noted that the death of Steve Jobs elicited emotion akin to the to the feelings religious believers have for saints.  Jim Martin, SJ, author of My Life with the Saints, draws seven parallels between Jobs' life and those of saints.  One of them:
He was the object of a cult. By this I don't mean the common definition of a "cult" (a group of crazies surrounding an even crazier leader).  Rather, the "cult" that surrounds the saint (and that is the term used) is simply a group of admirers who follow carefully the saint's teachings, study his or life and meditate on his or her writings.
Antonio Spadaro, SJ, editor of of the Jesuit journal La Civiltí  Cattolica, compared Jobs to St. Ignatius:
In his Spiritual Exercises, St. Ignatius wrote that one way of making an important choice is to examine how one would go about making that decision if he knew he were about to die.  Jobs told the new graduates in 2005: "Remembering that I'll be dead soon is the most important tool I've ever encountered to help me make the big choices in life."
Fr. Martin and Fr. Spadaro were both careful to note that they did not claim that Steve Jobs was actually a saint.
Image by aaipodpics under Creative Commons license.