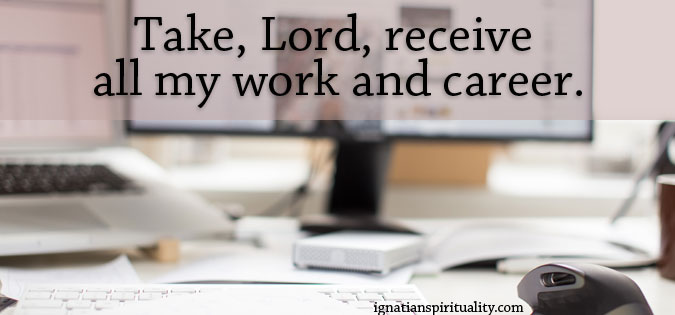 I work in an office where the pace is breakneck speed. I pray during my morning commute, but pride kicks in as I park: "See you at noon, God. I've got things covered."
Then I read the Suscipe. Uh, oh. Do I mean it?
I pray, "Take, Lord, receive, well, most of me. Can I hang on to this area—and that—while I 'let you' take care of the rest?"
So I'm taking an incremental approach to praying the Suscipe and meaning it. I'm starting with my high-stress work environment. When expectations of what's possible are unrealistic, I pause and recommit to who my boss really is: I'm called to work for God—not human approval.
The Examen is a guide. At the end of the day, I think about how well I allowed Christ to lead me at the office, and where I exercised genuine self-surrender. It helps me to do this musically, so I've paraphrased the song "Take, Lord, Receive," by John Foley, SJ (humming not included).
Take, Lord, receive all my work and career.
Relationships, interruptions, my strategic plans.
Give me only your love! You're my boss. You're enough for me.
Your love and your plans are enough for me.
Take, Lord, receive, multitasking and stress.
Have you given this to me? Can I return it?
Give me only your love and a cup of some fresh-brewed "Joe."
On Mondays I know: You're enough for me.
Take, Lord, receive, everything on my desk.
Dispose of it, wholly according to your will.
Give me only your love and a pace that leaves time for you.
My office: a place where your grace comes through.
After singing and while driving home, I ask myself:
When did I see Christ walk through my office door?
When during the workday did I feel closest to Christ?
How did I listen to the invitations to kindness, honesty, and integrity in work relationships and tasks?
Did I pause to ask God's opinion before barreling ahead with an e-mail, a decision, or a comment to a coworker?
Did I live my desire to work for God, or was success my bottom line?
Was I forgetful of God? Did I check my faith at the door?
I make my resolutions for a better tomorrow. I'm grateful that God allows me the freedom to draw closer to Christ in increments.
And truth be told, after praying this way, I am much more at peace. Things seem to be going better in the office, or is it that I am changed?
I next turn to an aspect of my life that needs much more work (sung to the same tune):
Take, Lord, receive
All my time in the car.
The way I drive, my lane changes,
The entire road.
Refrain:Give a blessing to all who will drive
Down this busy lane.
All day and all night, give us patience, Lord.
What parts of my life are easiest to give over to God's complete control?