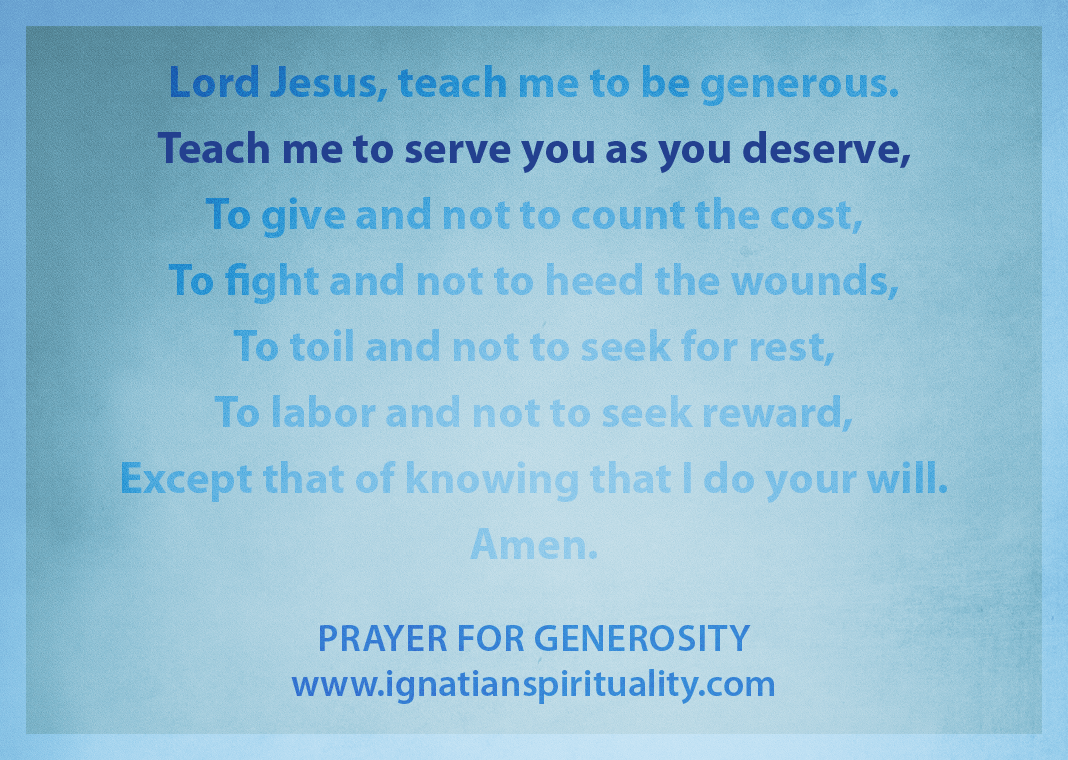 We've invited our dotMagis bloggers to reflect on the individual lines of the Prayer for Generosity, attributed to St. Ignatius.
If we think of service as optional, something we do because we want to, then our service will depend on our emotions, rationale, and will.
I serve God because I'm feeling happy or grateful.
I serve God because I simply see it as the right thing to do.
I serve God because I have committed my life to God, and I believe in keeping my commitments.
Good feeling, right thinking, and determination are not bad motivations for serving God. But they can shift with circumstance and our own interior vacillations.
If we locate our motivation in God's being and character, then our service will spring from what is constant and bigger than any personal feeling, thought, or determination.
We serve God because God is Creator of all and over all creation eternally.
We serve God because we know that everything we do is in service to something or someone, and God is the ultimate source and end point, our beginning and also our ending. Who else would we possibly serve?
We serve God because God's compassion, mercy, and passionate love for us inspire feelings of gratitude, thoughts of serving as right and sensible, and the determination to return that love.
Deserve really isn't the best word to use, because a created being could never return in equal measure what he or she has received from the Creator. We might edit this line of the prayer to: "Teach me to serve you in a way that demonstrates my recognition of who you are."
Of course, we learn—day by day, and over time—who God is. Thus, our service evolves along with our relationship with God. We serve God according to who God is but also according to who we are—and who we are becoming.