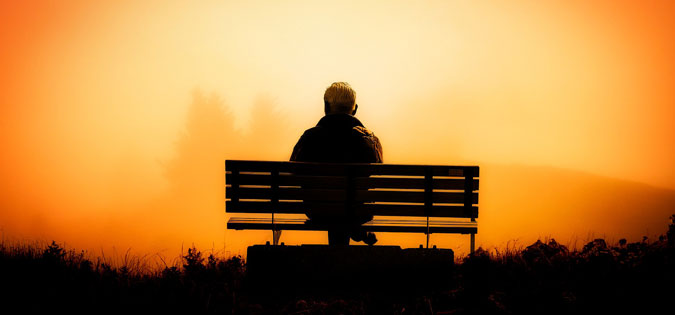 This post is based on Week Two of An Ignatian Prayer Adventure.
What does it mean to "find God in all things"? We're all familiar with spiritual literature that speaks of finding God in nature, in art, in the birth of a child, and in many other concrete examples of creation—most of which we take for granted. The graces we pray for each day this week of our Ignatian Prayer Adventure emphasize a much deeper awareness of God's ongoing creation and unique call to each of us. The Examen prayer, also sometimes called the Awareness Prayer, is one way of going deeper.
The experience of the Examen will be different for each of us. I offer here a few comments derived from my own experience.
Step 1: Pray for God's help. Be aware of the presence of God, here and now. The other side of that coin is to be present. Prayer is a relationship, and your presence is just as necessary as God's. Sometimes it's really hard to let go of our pressing concerns, worries, and immediate plans. A simple breathing exercise before starting—two or three deep breaths in and out—may help. The time of day may make a difference: choose the time when you find it less difficult to be still and open to God's presence.
Step 2: What are you most thankful for today? Lift it up to God, and express your gratitude in whatever words come to mind. A review of the preceding day that focuses on many things you are grateful for may be a good idea, but be careful not to let the details distract you. Don't forget to thank God for your more permanent gifts—you know what they are.
Step 3: What are the most powerful feelings you have experienced in the last day? Finding God deep within ourselves is a new idea for many people. If we approach it with honesty and openness, it can be a deeply personal experience of God's unconditional love for each of us. This is also the point at which any distractions experienced in the preceding steps may be examined. I have often heard from spiritual directees that they are distracted from prayer by problems at work or in their families. If these "distractions" are ongoing, they may be a clue that you need to bring the issue to prayer, and ask God to help you find the grace in the situation. Sometimes God meets us in difficulties, in pain, or in disappointment.
Step 4: Have you missed any opportunities to draw closer to God? Have you identified any feelings that are drawing you away from God? Asking forgiveness is not narrowly limited to material for sacramental confession.
Step 5: What is God calling you to do now? It may be something immediate: today or tomorrow, God may be asking you to say yes to someone who has asked for your help or to apologize to someone you may have hurt. Or the call may be life-changing: God called me to a three-year course of preparation to become a spiritual director—in my mid-seventies. Look forward to the future with hope!