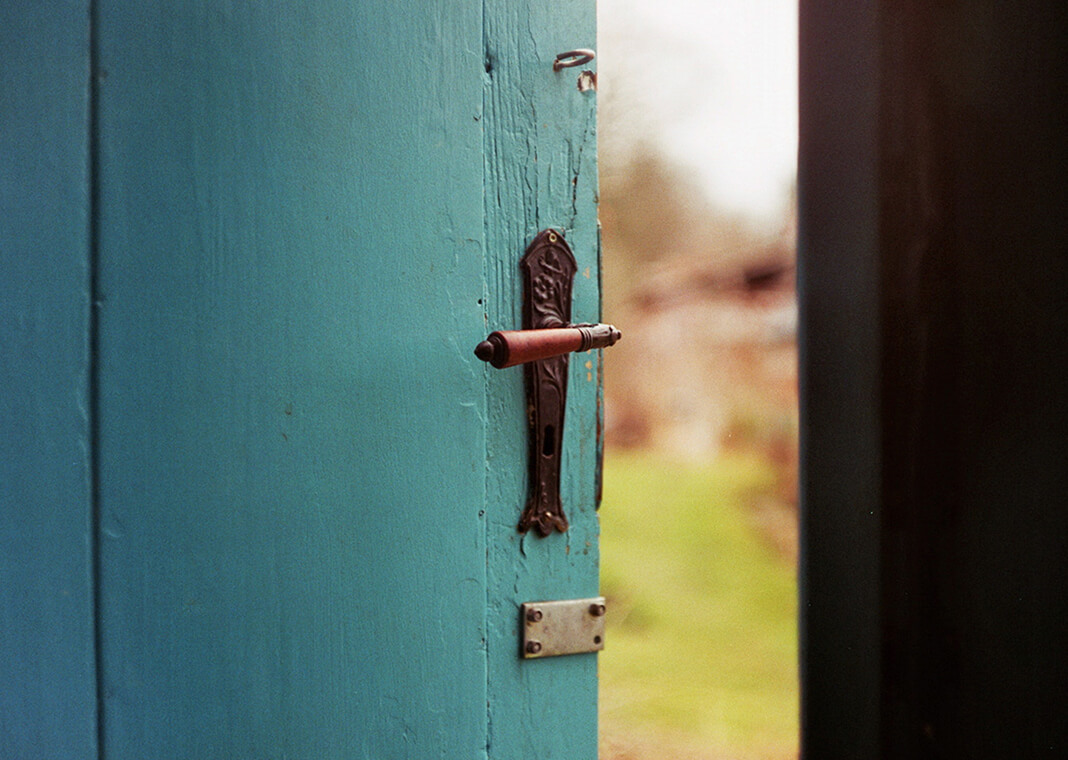 When I was young, Uncle Lou always came through our unlocked back door calling the traditional Slovak greeting, "Pochválený buď Ježiš Kristus," which meant, "In the name of the Body and Blood of Christ!" We'd hear Uncle Lou before we'd see him, and we'd respond in Slovak, "Na vek! Amen!" which translates to, "Now and forever! Amen!"
Gentler than a knock or a bell, this prayerful message was used when we made return visits, especially to our grandparents, who lived a mile away. Unlike these COVID times, unexpected guests could walk right into houses, be invited to sit, and be served refreshments. Visits could last anywhere from 10 minutes to an hour. They were never scheduled. Our home welcomed people at any hour; Mother or Dad would stop what they were doing to sit in the living room to talk and listen. It was a simple hospitality that I'd love to imitate when our sheltering in place is through.
Reminiscing about my childhood's open doors resulted from reading a Scripture passage last month: "Look, I have set before you an open door, which no one is able to shut." (Revelation 3:8)
God has a back door left open for me and eagerly waits for my visits. Like a busy homemaker, God stops his bread baking, wipes his hands on an apron, and immediately offers me refreshment in an elegantly furnished front room. God drops everything when I pop in for an impromptu visit. In truth, God eagerly anticipates my appearance at the door.
"What's on your mind?" this hospitable God asks. Cherubs run in as we talk, and God quickly gives them messages and sends them on their way.
I hear Jesus coming through the back door, whistling. "Come, sit with us," God calls to the Son, and when he does, Jesus eagerly asks what we've been discussing. I tell him about my loneliness during the pandemic and my wishes for freer, healthier times. Before he can more than nod, I hear a cheery, "Hello-o-o!" and Mary pops around the corner. Everyone jumps up and into a group hug. We laugh in the warmth of a generous familial embrace—something I miss right now.
I repeat what I was just saying to God the baker, and we all talk about everything and nothing. We're silent at times, sober for a few moments, and laughing at others. An alarm rings on my watch. I have to get back to my regular life; my prayer period is over.
While God's door is always open for me, I may lock my heart for various reasons. I may believe that, "I've got this, God." God never enters my soul without knocking first and waiting to be invited in. God never imposes. Sometimes, God's knocking interrupts my busy agenda at unexpected hours. I hope to keep my heart's door open to God's surprise visits. When I'm at the end of my rope, Jesus might choose to drop in, remind me to stop obsessing, and ask me to adjust my schedule so as to acknowledge God present in all things. God might stay a while in a comfortable, candid conversation.
Just like the house where I grew up, God's back door is always open for me. God is always at home, and when I announce, "I'm here in the name of the Body and Blood of Christ!" God shouts, "C'mon in!"
Photo by Jan Tinneberg on Unsplash.