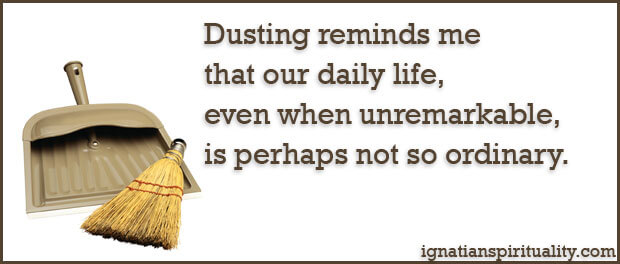 Last week, I pushed my office door open and flicked on the lights, to find it looking wan and grey under a six-month shroud of dust. In the middle of last May, I packed up my plants and left a note on the board outside my door: "On sabbatical. Back in January 2016."
It's been an incredible and productive time. The first draft of a book is done. I had the privilege of visiting the Vatican Observatory to talk to the astrophysicists, with a chance not only to walk in the papal gardens, but to see the meteorite lab there. I hiked the west coast of Ireland with my husband. But today I am back, facing the ordinary after this six-month stretch of extraordinary days.
In between meetings I dust, methodically clearing desk and table, running a cloth over the lamps. Perhaps if I polish up the ordinary until it glows, I'll feel ready to return to my routine, with its round of lectures and office hours and mounds of papers to grade. Or perhaps not. As the dust flies, my mind drifts back to a walk along the Irish cliffs, the waves pounding so hard against the rocks the water is ground into a mist, the salty crystals of which I'd wipe from my glasses hours later.
It's a short and drier walk to my bookcase where I pull a volume of Marilyn Nelson's poetry off the shelf, blow the dust off my glasses, and page through until I find what I'm looking for: "Dusting."
Thank you for these tiny

particles of ocean salt,

pearl-necklace viruses

winged protozoans:

for the infinite

intricate shapes

of submicroscopic

living things.
Nelson's poem—and my dusty office—reminds me that the unpolished and ordinary is cloaked in the extraordinary. Even as I settle back into my everyday life, in that dust, tiny tokens of the universe have settled into my office. Should I be able to sort through the motes, I expect I would find fragments brushed from the cliffs in Ireland, blown into the air by storms in the Pacific, and burnt off comets that blundered into Earth's atmosphere. Crumbs of the infinite lie scattered across my desk. I'm suddenly hesitant to pick up my dust rag and wipe it all away.
In his book, Encounters in Silence, Karl Rahner, SJ, reflects, "if there is any path at all on which I can approach You, it must lead through the middle of my very ordinary daily life." Dusting reminds me that our daily life, even when unremarkable, is perhaps not so ordinary. As I step back into my teaching, into the very ordinary days of my life, I'm reminded to think twice about brushing off the infinite hiding within the immanent. Fragments of God are strewn wherever I walk.
---
Hear Krista Tippett and Marilyn Nelson discuss this post on On Being.