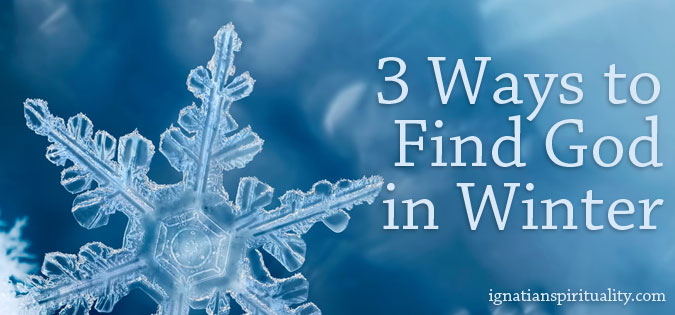 I happen to like a midwestern winter: cold, barren, dark, and windy. I enjoy bundling up and walking on winter days, with or without snow. The introvert in me looks forward to spending those dark evenings with books, knitting projects, writing projects, cooking, and pots of tea. Something in me connects to the sacred in winter—because I believe that each season is sacred in its own way.
But I know that many people struggle to find anything to love during this season. They don't do well in the cold, or they tend toward depression for lack of natural light. In the same way I dread the heavy humidity and inescapable heat of summer, others want to find an escape route from winter. If God is present always, we will find the divine even in this cold season.
1. Use the opportunity for deeper prayer.
When the season changes to a time of year that feels ill-suited, it's good to recognize that we are grieving a loss. The gentle summer air is gone; the flowers are gone; many of the outdoor sights and sounds of people are gone. Perhaps we can use this time to pray over other losses. As I grieve the daylight that no longer surrounds me on the way to and from work, I can pray something like, "Lord, I know this sadness is attached to other, deeper, causes of sadness. Help me identify them and sit with them here and let you comfort me."
2. Explore other sources of joy.
You really can't savor a robust pot of chili in July—not the way you can savor it in January. During the winter, we have a different set of joys and comforts, so let's dive right into them! Read to your kids or your spouse. Collect memories into scrapbooks, something that's not as attractive when the weather invites you to the beach or backyard. Don't think of winter activities as default options you're left with but as entirely different yet wonderful pleasures.
3. Identify winter-worthy ways to serve.
If my needs shift in the winter, then it's likely that some of the people I know face the same struggles. Are these long, dark months prime time for visiting others and filling the time with conversation or a feel-good movie? If I dread being cold, might that remind me to buy gloves and heavy socks to donate to organizations that supply people in need? Would February be a good month for a three-week Bible study in small groups—the opportunity to gather in homes or at the church and focus on the Light of the World?
Winter may not be your first choice as a season. Yet it carries its specific gifts and purposes. May you enjoy them in the weeks to come.