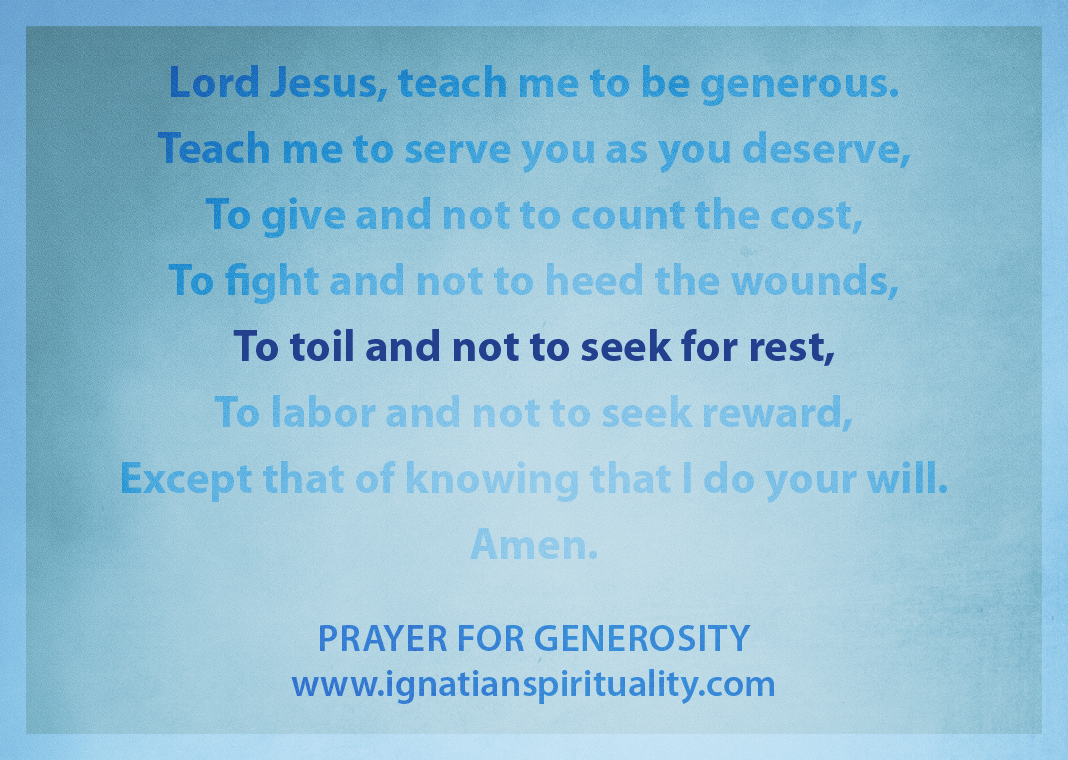 We've invited our dotMagis bloggers to reflect on the individual lines of the Prayer for Generosity, attributed to St. Ignatius.
When I first met my now-husband, he was about to go on a trip to see his sister in Colorado. While he was there, he hiked the Manitou Incline. This steep, mile-long hike is along old railway ties up the side of a mountain. In early spring, it can either be dry as a bone or still slick with ice, depending on the weather around Pikes Peak. My husband survived the climb and came back to tell me all about it. He said it was a bit icy, but he managed to make it up the incline in record time.
A year later, we traveled to Colorado Springs together to visit his sister. My husband is a super-practical guy, so a couple weeks before our trip he called me and said, "If you ever want a ring in the near future, would you please just tell me your size." He is also remarkably subtle. Based on the very bold hints, I considered the possibility that he would be asking me to marry him sometime during our trip to Colorado Springs. When we arrived, we discussed all that we would do with his sister and brother-in-law. He told them he had been trying to convince me to climb the incline. I was a little nervous, but I also really love a challenge. And I reasoned that since it was sunny and hot, my journey up would be a little easier than his was the year before.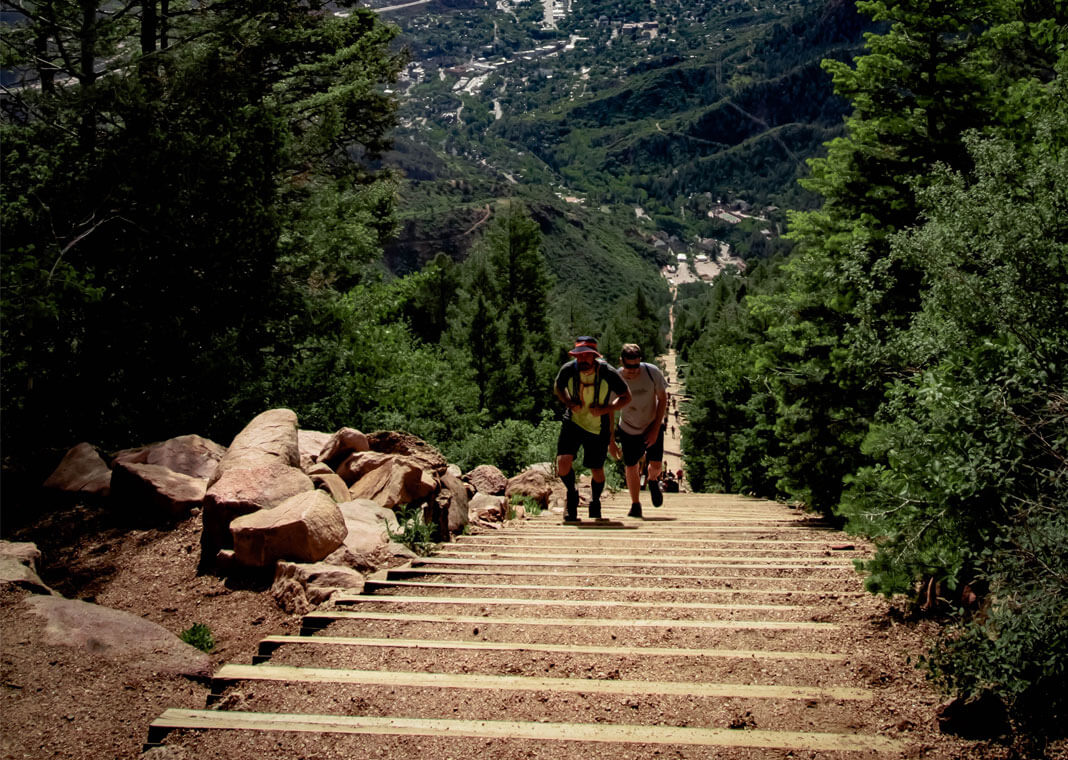 So, after a few days of exploring Colorado Springs, we finally went to Manitou Springs and stood at the base of the incline. I remember taking a photo at the base with my arm folded in a bicep curl, indicating how strong I was going to be. Perhaps, I thought, I'd even beat his time. The first part of the incline was not bad. We were stepping on flat logs that were spaced much like an ordinary staircase. It was long and it was hot, but it was doable. There is a halfway point where one can easily go back down the mountain if feeling like giving up, but as we passed that point, it still did not seem so bad. So we kept on going. As we continued to climb, however, the logs got closer together. Eventually, instead of climbing while standing upright, I was laying against the logs, reaching up a hand to grab a railway tie and pull myself up, nervous I was going to go tumbling down the side. Several times I sat and thought seriously about my sanity. Why was I doing this? I also sat and contemplated whether or not I could just go back down to that halfway point. Unfortunately, I was told it was safer to keep going up.
I am scared of heights, and this was high. I could see how steep it was below me, and I wanted to give up so many times along the way. Eventually, however, I pulled myself up to the top. And then I stood there, looking down and thinking, "I cannot believe I just did that." I stood looking across the broad horizon and thought I had never seen such a beautiful view. And it was at the top of the mountain that my husband knelt down and proposed.
The Prayer for Generosity invites us "to toil and not to seek for rest." This doesn't mean not to take care of yourself. This doesn't mean not to sleep or to work until your body can't anymore. It does mean, however, to have a little faith and lean into the challenge of things. It means to keep putting one foot in front of the other until you can't anymore—and then crawling on your hands and knees until you reach the beauty that God intended for your life.
And by the way, the ring didn't fit. Never measure your ring finger with just a piece of tape and a good guesstimate.
Photo of Manitou Incline by Rachel Beam on Unsplash.