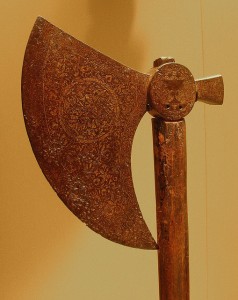 Every time the story of Ignatius Loyola is told, the teller of the tale mentions that he was a soldier and that he was wounded in battle.  But then the speaker hurries on to what happens next–his conversion during his year-long recovery from terrible battle wounds.
Writer Dawn Eden thinks we should pause a moment and reflect on what Ignatius experienced as a soldier.  She suggests that he was a trauma survivor. Fighting was often hand-to-hand.  Men killed other men with swords, pikes, axes, and knives.  Ignatius must have experienced intense terror and witnessed horrific carnage. Such things cause deep emotional and spiritual wounds.  This is something that was always known but seldom talked about, and to our knowledge, Ignatius never talked about it.
I wonder how Ignatius's battle experiences affected him.  Trauma survivors often feel responsible for the horrific things they experienced.  Could this be a factor in the bouts of morbid scrupulosity Ignatius suffered?  Survivors are often tormented by memories.  Ignatius was careful to include his memories in the things he gave back to God ("Take, O Lord, and receive all my liberty, my memory, my understanding, and my whole will.")  Those who heal from trauma have a profound sense of having come a long way from a very dark place.  Can we detect this in Ignatius's deep sense of gratitude to God?
Possibly so.  In the Spiritual Exercises Ignatius strives to help us understand that we are sinners who are redeemed and loved by God.  He may have been able to do this because he experienced it in a place where most of us don't go.
Image by Arutemu under Creative Commons License.