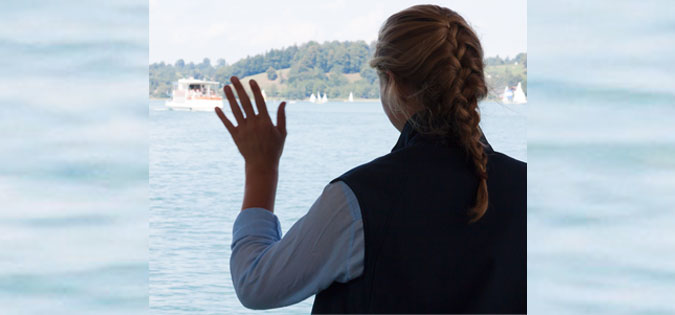 Standing in a piazza in Lucca, Italy, dappled sunlight shining down on me, I licked gelato al limone while my husband peeked in storefront windows. Our boys traded licks of their own flavors as they critiqued them with the seriousness of a Food Network expert. I whispered "I'm happy" to no one but me and God, as I often do when the moment comes, to capture it and make it more real.
A small bus inched through the crowd. One forgets these streets are for cars when they are filled with people. The pedestrians seem to have eyes on the backs of their heads as they move easily to the left or right to let vehicles pass.
I peeked into the bus as it crept through the mass. It was filled with young adults strapped into wheelchairs or specialized beds. Two attendants sat near the front, animatedly talking with the driver as he rode the brakes. As the bus moved past, my eyes met with another pair. The sweet face of a man with Down syndrome stared out the window. He looked to be in his late 20s. His face was expressionless with a hint of boredom. Without thinking, I lifted my hand and waved, big and bold. The happiness I had just acknowledged to myself and to God shone in a bright smile stretched across my face. The young man noticed and waved back just as enthusiastically.
As the bus drove out of view, my youngest came up to me, covered in chocolate. As I wiped my son's face and hands, I thought to myself, how silly I was to wave. I hope I didn't confuse the young man. He must now be wondering why this strange woman was waving at him. Was I just ridiculous waving with such vigor to someone I didn't know? I felt embarrassed by my impulsive action. These thoughts stayed with me as I cleaned my oldest son, who had managed to get gelato in his hair.
As I finished my cone, the bus returned. I saw the young man again, this time sitting up straighter than before. His eyes scanned the piazza as his head moved back and forth, and I realized he was looking for me! When he found me, his eyes brightened and he waved, as did I, until the bus turned the corner.
I was glad I had been so impulsive, so silly as to share my joy with a complete stranger. Why am I often so apprehensive to share the joy the Lord has given me? I worry about my appearance. How will it look to those around me? But in this case, as most, my joy doubled, grew, spread outward, and came back to me in such a simple, little action.
"Did you know that man?" my son asked me.
"No, we were both just happy," I said, giving my son a squeeze.