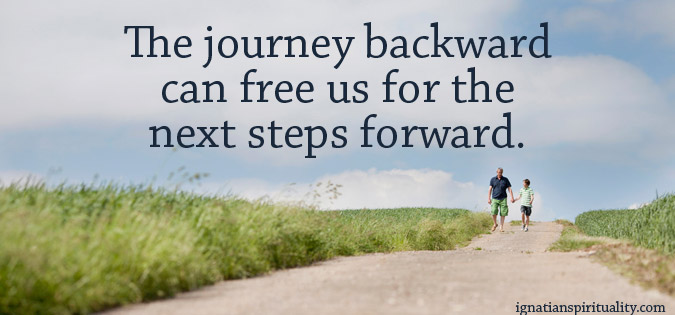 We talk a lot about "moving forward"—whether in a business meeting or a relationship or an aspect of personal spirituality. United States culture is generally obsessed with productivity, profit margin, and success. And we can carry that obsession into our attitude about moving forward. Progress is the key!
Some of the most powerful spiritual practices, however, aid us in moving backward. The journey backward can balance our constant anxiety about going forward. What does the journey backward look like?
The Examen
When we pray the Examen, we look back at a portion of the day or the entire day. We reflect on and identify where we were most aware of or working in concert with God's presence. We also look back and identify where we missed the opportunity to notice God working or to work with God.
Healing Prayer
Some forms of healing prayer take us back to events that have wounded us. We go to that painful moment or period and invite Jesus to join us there. We re-experience the hurt, only this time we are accompanied by Jesus: his strength, mercy, peace, and forgiveness. Sometimes this type of prayer experience can help us see the event differently; for instance, we might understand for the first time that the person who hurt us was also deeply wounded and that that person's behavior was due not to our fault or failure but to her or his own issues.
Please note that this form of prayer nearly always involves a counselor, spiritual director, or other companion who can support the person and create a safe place for this kind of exploration.
Storytelling
I can look back over my life and recognize multiple themes. I can open my past by focusing on specific aspects of it: relationships, jobs, struggles, personal development, where I lived and how that shaped me, what gifts I developed, what family roles I played, and so on. By telling my story through multiple themes, I can make sense of my past in ways I've not recognized before.
For instance, I might remember my childhood as a lonely time, because I suffered much illness and was unable to spend time with other kids. It's primarily a negative memory, because I'm thinking of that time in terms of interacting with my peers. Then I shift focus and remember another aspect of those years: learning to be quiet but attentive. Because of illness, I learned to stay interested in life through reading books or doing crafts or learning to identify birds at the birdbath in our backyard. Now I see that time as much more positive, because it helped me develop the ability to be still and pay attention—something many people don't develop until much later in life.
The journey backward can free us for the next steps forward. Reflection, prayer, and storytelling create within us a fuller picture of who we have been and who we are becoming.