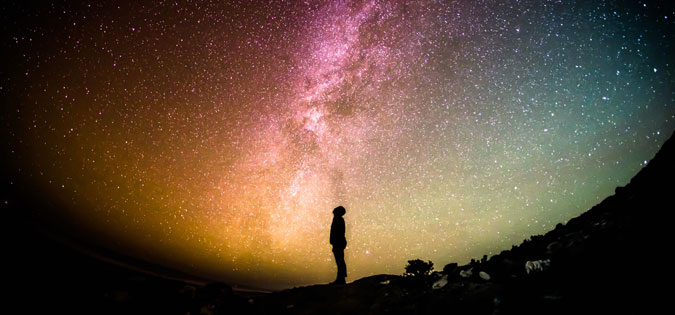 Every November, my social media feeds are filled with posts and pictures of people doing "30 days of thanks." At first glance, I appreciate the way people are intentionally reflecting on their lives to say thank you for what they name as gifts and blessings. It reminds me of one of the steps of the Examen, where we pause and thank God for what we noticed in the last 24 hours.
St. Ignatius, though, did not suggest we stop our prayer at offering thanksgiving. He invited us to bring our entire lives before God, naming with honesty our thanks, our moments where we feel God, our lives' dark spots, and our sins.
The temptation to offer only prayers of thanksgiving to God is a common practice that I notice in my ministry of retreats and spiritual direction. We are afraid to bring our mess before God and fearful to be completely honest with God about what's going on in life.
I wonder how many of our human relationships would last if we kept all of our conversations at the level of thanks, like we sometimes do with God? Relationships move to a different level when we risk being vulnerable, when we have a deep sharing of heart, and when we have a space to voice not only what we are thankful for, but also our lingering questions, our desires, and our struggles. We cannot stop at thank you.I like to think of prayer like the words we read in the Psalms, where there is a mix of thanks, praise, anger, questions, frustration, and joy—sometimes within the same psalm. One minute we might read how the psalmist is crying out with joy and the next the psalmist is asking, God, why did you abandon me?It's tough to be this honest in prayer, to bring our thanks to God, but also our dark spots, the spots we are struggling with, the places of weakness. But if we hold back these places from God, how can God transform them with mercy? How can God help us forgive ourselves or others? How can God give us clarity if all we are bringing is our thanks and not our questions? God can direct our actions and guide us when we seek God's help in all aspects of our lives.
Keeping only to thanksgiving would be like allowing ourselves to hang out in the preparation days of the Spiritual Exercises forever and never having the courage to enter Week One to look at our sinfulness and let God transform it, or not entering into Week Two to get to know intimately Jesus, who shared himself completely with us, or never entering Week Three and letting God transform our suffering. Week Four of the Exercises means nothing to us without the complete vulnerability of letting Jesus completely into our lives, which is the work of the previous weeks.
So this November, yes, let us shout with joy and sing songs of praise and thanksgiving to God. That is a vital component of a healthy prayer life. But what if, in addition to songs of praise, we committed this month to honest prayer and bringing our entire lives before God? My guess, based on my own life experience and on witnessing others' prayer in spiritual direction sessions, is that this month of honest prayer will move us to an even deeper prayer of thanksgiving to God!