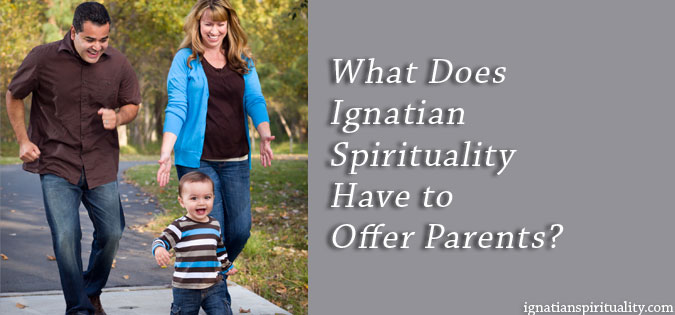 Being a parent is one of the most rewarding and challenging jobs I have. It is full of joy and small sacramental moments that often point me toward God amidst the mundane tasks of my day—the pure happiness on my infant daughter's face every time she sees one of our family members, the wonder at watching a child grow and develop, the lightheartedness and laughter that explodes from my older two as they burst through the front door after school.
Parenting is a job, though, that at times can make me feel like the seams may rip open and all chaos will break out despite my best efforts to meet the needs of my three kids. There are nights I lay awake with worry about one of them and something he or she is facing. So often, I toss and turn as I analyze my actions as a mom that day, often begging Mary to pray for me and to help me be a better mom and to teach me how to love the ways my children need to be loved.
I turn often to my faith and ask, What's there that can help me? As a mother who is deeply passionate about the Spiritual Exercises, I've learned that Ignatian spirituality offers me three helpful lessons as a parent.
1. "Let the Creator deal directly with the creature."
Ignatius suggests this concept (SE 15) to people leading others through the Spiritual Exercises. There is much wisdom here for me as a mom. While I deeply love and care for my children, God loves them more. While I am always working on their behalf, God's labor for them supersedes my own. I find comfort in knowing that God is dealing directly with my children the way I experience God dealing directly with me. When one of my children makes choices or decisions that worry me, I find comfort in knowing that God, too, is working on his or her heart.
2. We are active participants.
As parents we are called to be active in our children's lives. While God is dealing directly with our children, God is also trusting us, as parents, to be actively involved in the rearing of our children, to be passionate about loving them and helping them learn about God's love for them, and to be diligent in teaching them right and wrong and how to make good choices. As parents, we have work to do, work that is our vocation. Parenting is not a passive role by any means! However, at times, we are called to participate simply by noticing, watching, or receiving what our children have to give the world. Sometimes all we can do as parents is to pray for our kids and participate in God's unfolding work in their lives.
3. Jesus models the way.
At the heart of the Spiritual Exercises is coming to know the person of Jesus and in so doing we learn how to live and love. Jesus models for me how to go about my job as a parent, even when it feels hard. Jesus went about his tasks with his Father's help. Jesus carried his Cross with God's help. Jesus was deeply rooted in God, and he turned to God often. He prayed, and then he went about his task. That's all I can do as a mom. In the middle of my tasks, I can stop, pause, turn my heart and mind to God, and then go about my day—changing diapers, nursing, running carpool, cooking meals, overseeing homework, doing laundry, and shuttling kids to and from activities. I can go to God often in my day, bringing the joys and worries and mundane tasks to God, and then focus again on living the beautiful vocation given me to be a mom.
I write this post as much for me as I do for other parents who will read this. I need these reminders during my sleepless nights or the days I question my ability to care for the three gifts God gave me in my children. These lessons of Ignatian spirituality bring me comfort and respite as I come to a deeper understanding that there are many things that I cannot handle alone, and therefore, I am utterly dependent on God.