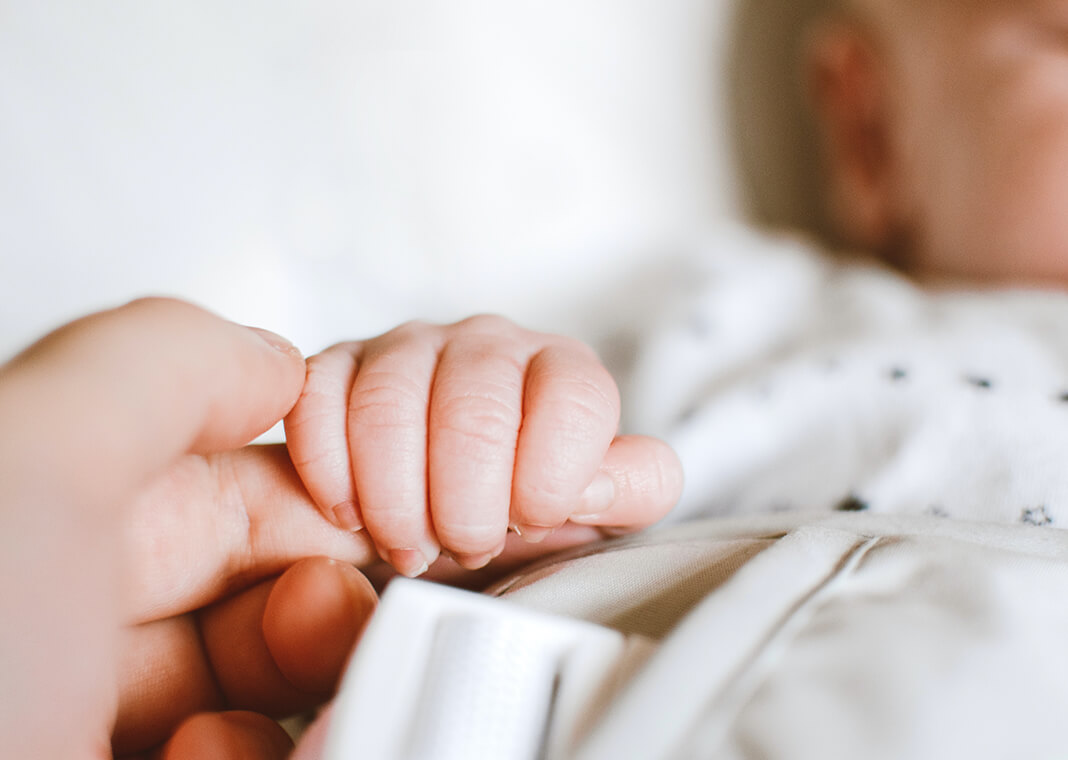 Editor's note: Throughout July, we're celebrating 31 Days with St. Ignatius, a month-long celebration of Ignatian spirituality. In addition to the calendar of Ignatian articles found here, posts on dotMagis this month will explore cannonball moments—moments that changed the course of a life, just as getting hit by a cannonball changed the course of St. Ignatius Loyola's life. The inspiration for our theme is the Ignatian Year, which marks the 500th anniversary of Ignatius's injury and conversion.
My life changed 14 years ago, when my newborn son was placed in my arms for the first time. Love welled up in me from a depth I had not experienced before as I felt his small, soft body snuggle safely up to mine. Tears rolled down my face as I gazed at his beautiful face and slowly took in the entirety of his creation: the shape of his eyes; his peach-fuzz hair; the touch and smell of his skin. After a moment of savoring this exquisite gift from God, I leaned over to kiss my son's tiny forehead. As my lips touched his skin, I softly uttered the words, "I love you, Brady," for the first time. The minute those words left my mouth I knew my life would never be the same. I became a mom.
St. Ignatius's life journey can be marked by a before and an after. There was life before a cannonball hit his leg and life after the cannonball. This moment changed his entire life. He suddenly found himself walking a path that led him towards continued deepening of his life in God. It was a path towards the more: more love, more mercy, more forgiveness, more freedom, more joy, and more hope.
My life can also be marked by a before and an after. There was life before being a mom and life after. My life was changed not by a cannonball hitting my leg, but by my son being placed in my arms. It was the moment I embraced the vocation that I know in my bones is the path that leads me towards the more. My motherhood is a lived expression of the closing line of the First Principle and Foundation as translated by David Fleming, SJ: "I want and I choose what better leads to God's deepening life in me."
Being a mom deepens God's life within me. I learned this first with my son, Brady, 14 years ago, and my understanding widened as we welcomed our daughter, Abby, into the world 12 years ago and our daughter, Mary, seven years ago. Each child summons a profound sense of awe and love that propels me forward to put my love into actions.
Motherhood invites me daily to learn to love like God. It is trying to be a steady, loving presence in my children's lives. It is learning that the basic tasks that are part of being a parent—such as making meals, washing clothes, driving children to school, encouraging them through difficult tasks, and supporting their friendships—are concrete expressions of love to my children. It is being available to listen when a teenager suddenly decides out of the blue he wants to share something about life, even when I have a million tasks on my mind. It is seeking to offer forgiveness and mercy to a little one who made a mistake and trying to love her in that moment the way God loves me. It is learning to see my children in the way God sees them and to nurture the God-given gifts and talents in each of them.
Just as Ignatius stepped out in faith after his cannonball moment, motherhood also requires deep trust in God. It calls me to wake up every day doing my best to trust that God's grace is enough, not only for me, but for each one of my beautiful children. My life since becoming a mom continues to teach me that I can love bigger than I ever thought I could and in ways I never thought I could. I am not the same since the moment I became a mom, and I thank God every day for this cannonball moment in my life.
---
Today in 31 Days with St. Ignatius, explore Questions Inspired by the Letters of St. Ignatius by Marina Berzins McCoy. Then use the hashtag #31DayswithIgnatius on your favorite social media to share what questions Ignatius inspires for you.