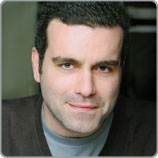 Jake Martin, SJ, writes at Busted Halo about the changes in late night television and the fact that humor cannot remain static. As a comedian himself, Martin knows the challenges and rewards of being funny:
Why subject yourself to a lifetime of potential rejection and continual frustration, in order to devote yourself to an existence in which your role is reliant upon the reaction and response of total strangers? Because once you tear away everything else: the money, the home, the car, the etc., and get to what really matters, which is our relationship with God and one another, there are few things in the world that can be regarded as more significant than making someone laugh.
Martin is the author of What's So Funny about Faith?