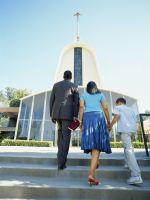 In this age when more and more people describe themselves as spiritual but not religious, it is helpful to recall Ignatius's understanding of the purpose of prayer, devotions, and participation in liturgy.
In what pertains to prayer, meditation, and study and also in regard to the bodily practices of fasts, vigils, and other austerities or penances, it does not seem expedient to give them any other rule than that which discreet charity dictates to them, provided that the confessor should always be informed…. (Constitutions 582)
All these acts of worship, public and private, are to help conform ourselves to Christ so that we may labor with the rest of the Church in the Lord's vineyard.  There is always an "ecclesial" dimension to spirituality–that is, it is never private.  It must always be part of Christ's work in the world.  Prayer is to the work of discipleship what exercise is to performance in competition: both make us ready.
Ignatius, ever the realist, is aware of our tendency toward laziness in devotion:
they should be vigilant that these practices may not be relaxed to such an extent that the spirit grows cold and the human and lower passions grow warm.
While going to church is not the end of our existence–rather, laboring to do Christ's work in the world is–still it is necessary because it reminds us constantly that the work is not our own.