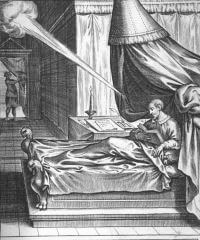 One of my greatest joys in life is journeying with those in their 20s and 30s in my work with Charis Ministries, and even more specifically, sharing with them the gifts and joys of Ignatian spirituality. At the beginning of every Charis retreat, we take the time to share St. Ignatius's story. I am always amazed at how much his story speaks to the young adults and how much they find encouragement and inspiration in Ignatius's story.
To begin with, Ignatius's conversion happened when he was a young adult and a layman. Instantly, this opens up the reality that we are invited, as Ignatius was, into a relationship with God right now as we are in our 20s and 30s. His conversion story did not happen after years of theological training or years of religious education; rather, it happened in the prime of his military career. What does that say to young adults? God wants us now, and if Ignatius could make the radical change as a young adult to follow Christ, then we can also right now. Caitlin, a 22-year-old college student, captures this reality when she says:
What inspires me the most about Ignatius is the humanness of his story. The humanness and the humility that his conversion story ends with are inspiring. It seems that if he can overcome the life he was living to find Christ, our journey can't be that far.
The question that Ignatius's story invites all of us, not just young adults, to consider is, "Am I aware of the depth of God's desire for a relationship with me right now?"