I had the privilege of being part of the 2013 New Contemplatives group at the Spiritual Directors International Conference. The seven of us in the New Contemplatives group were all spiritual directors under the age of 40 from various faith traditions. It was inspiring to be with other young adult spiritual directors and to hear the creative and innovative work they are doing in the realm of outreach to young adults and spiritual direction.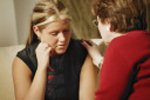 No matter what ministry we were part of and no matter what our faith tradition, we agreed on the same basic hunger we saw in people in their 20s and 30s. There is a deep hunger in young adults for authentic people to journey with them. Young adults are seeking to explore the deeper questions of life, and they are looking for mentors, teachers, and spiritual directors who can help create space to allow them to ask tough questions.
This desire in young adults for spiritual companions is very apparent in my retreat work with Charis Ministries. For over six years, I witnessed the spiritual direction slots fill up very quickly at the retreats. Multiple spiritual directors' schedules were full! This experience is not unique to the retreats I work with, though. In my role working with our Charis partners across the country, many of our partners express the same thing. Recently, one of them shared with me how there were so many young adults wanting spiritual direction he had to go find more spiritual directors on the day of the retreat to meet the demand.
The hunger for young adults seeking people to journey with them is a moment full of sacred possibility for all of us in ministry. I challenge each of us to seek out young adult men and women and see if we can offer them the gift of spiritual companionship.