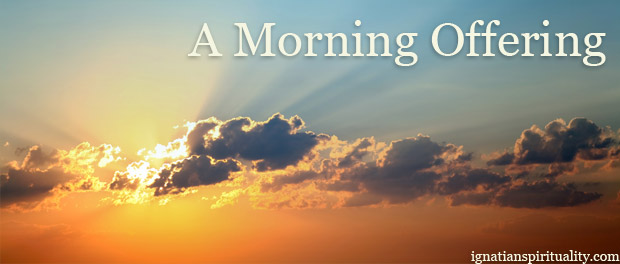 While on retreat this past summer, I spent a good deal of time praying for the grace of indifference and asking for the freedom to align my will more closely to God's own will. Along the way, I read in Hearts on Fire: Praying with Jesuits several versions of a Morning Offering, a prayer that offers one's upcoming day to God. Inspired, I wrote my own version. Elements of it are based on Ignatius's Suscipe; Psalm 119:10; and Therese of Lisieux's image of coming to God with empty hands at life's end.
Jesus,
As I look forward to face
Whatever the day may bring,
Joy or sorrow,
Health or sickness,
Success or failure,
Laughter or tears,
I recall your love for us,
Your faithful friendship to the entire world
And to me, personally.
Let me stray not from your commands.
Let me never be far from your heart.
Help me to share the gifts that I receive with all
And to see your face in all my brothers and sisters.
At the end of the day may I return to you
And surrender the day's work, love, heartaches, and joy
With open hands and open heart.
Amen.