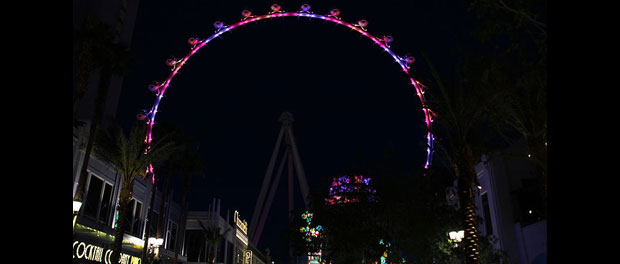 I recently took a ride on the High Roller, the observation/Ferris wheel in Las Vegas, which happens to be the highest in the world. The strange part of this is that I'm afraid of heights. My husband wanted to take the ride and for whatever reason, I agreed to go along without giving it much thought. I was not at all concerned until the doors closed in our little car and there was no turning back. I was in for 30 minutes of climbing to great heights whether I chose to enjoy it or not.
I found myself a seat and took out my phone to focus on something other than the view around me as we rose ever higher. Some children in our car, completely unbothered by our collective dependence on sound engineering for the next 30 minutes, gleefully danced around from window to window, thrilled with all of the lights dancing below them. I couldn't bear to look—well, except that I kept taking little peeks.
The truth is that while I was busy posting on Facebook warning my friends of my impending doom, deep down I knew I'd be safe. That's what allowed me just to take a peek every now and then. As I became a little more comfortable over time, the peeks turned into longer glances, and eventually I was able to stand up and walk up to a window and take in the beautiful scene before me. Of course, by that time we were nearly at the bottom, but it was still a nice view.
How very like my ride on the High Roller is our faith journey. We find ourselves along for the ride whether we want to get off or not. Few of us are so fortunate as to be like the children, instantly having faith and gleefully enjoying every moment of the ride, though that's what we strive for. For many of us, we are faced with a choice. Will we simply coast through the ride hoping not to get hurt too much along the way? Or will we take a peek here and there, knowing deep down that God is with us and has a plan for us? With a little faith, we can take some peeks—chatting with the outcast, feeding someone who is hungry, praying for that coworker who drives us nuts day in and day out. With time those little peeks will grow, and we'll see the world around us in new and beautiful ways as our view expands.
We're all on this ride we call life and, indeed, where it ultimately takes us is out of our control. What is in our control is how we respond to what we see around us—assuming we dare look up at all. The view is constantly changing out there as the ride moves on, so peek often. Be not afraid; enjoy the ride!
Image by Nate Stiller under CC BY-SA 3.0 license.