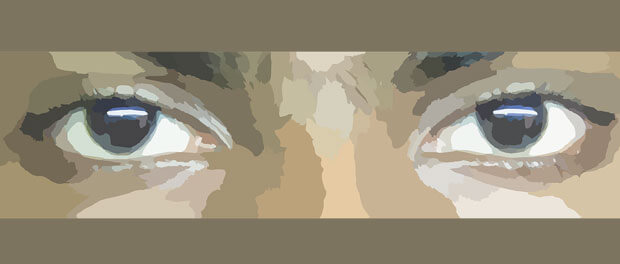 While reading Pope Francis' book, The Church of Mercy, I stopped in my tracks. He asks, "Do you let yourself be looked at by the Lord?" I wondered if I take time to be aware of God's gaze upon me. Pope Francis continues, "God looks at us, and this is itself a way of praying."
The Pope's words led me to the following contemplation.
I picture myself before God, like a child self-dressed for school standing before a loving parent. "Just let me look at you," the parent says.
I stand a little taller, enjoying that smiling gaze, knowing I am the center of attention. True, my outfit is mismatched, and there's mud on my knee and a tear in my sleeve. But God overlooks all these things, seeing only with joy the beloved child who eagerly looks back into a loving face. "Turn around."
I pirouette, allowing myself to be studied, and God smiles. I stand looking into that face, and Divine Mercy looks lovingly at me.
I have a drawing in my hand, and I offer it for God's approval. I've made a picture of my life's plan, with all its decisions and expectations. I've scribbled in where I will do this or that. I picture it like a hopeful kindergartener's rudimentary artistic effort. God accepts it, looks at it, and laughs. "It's beautiful."
Again, I find God gazing upon me. And I return the gaze.
Suddenly worry sneaks in. I wonder if I am going to get my picture back. What if God shreds it?! I gaze at God, not saying a word, but the anxiety shows on my face, I am sure. I sense the Almighty saying, "Trust me."
I relax a little, but I can tell I have not surrendered that drawing. Will God hang it on the heavenly refrigerator? Will God show it proudly to every visitor to the house? "Isn't this precious?" I can imagine God saying, pointing to my picture.
I return to the image of God and me looking at one another. God stares at me a little longer with love. I find myself letting out a deep breath. I didn't realize that I was holding on to it. I exhale loudly.
"Trust me," God says, handing back my drawing. The Holy Spirit wrote something on it. What does it say?
I stay still, allowing my Creator, my Redeemer and Sanctifier to hold me in a long, loving look. And suddenly, I am ready to go to sleep, and this is OK with God. While I sleep, God will continue to look at me, like a parent smiling into the restful face of a babe who gently snores with complete surrender.
Still, God looks at me.