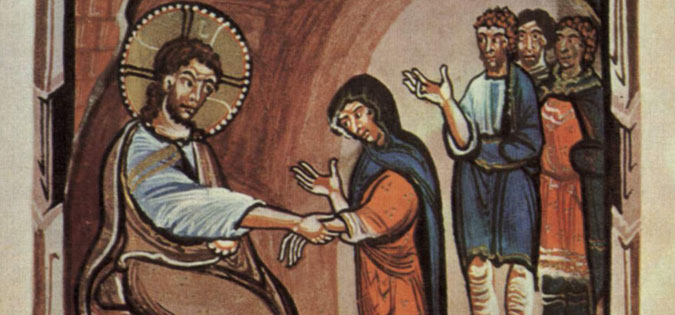 Sometimes God heals and comforts us, like Jesus did for Jairus's daughter, the woman with the hemorrhage, and Peter's mother-in-law. Sometimes God heals and comforts through us, and we find that in working to heal and comfort one another we've also brought great comfort to God.
You Heal Us in Secret
You heal us in secret and silently,
when we but touch Your clothes;
You say our faith is the cause;
how is it You rely on
our faith for Your works?
You feed us in so many ways,
not the least of these being
when we reach
to touch the least of these,
to touch in love in Your name;
You ask us each to get up,
give us something to eat,
and send us to serve;
perhaps today
a hand will touch our clothes.
You Bring Me Great Comfort
You bring Me great comfort;
you, little you;
you who remain with Me,
who seek to heal My wounds
through gentle touch,
your hand on My shoulder,
your hand in My hand;
you who wait with Me
for the fulfillment of all My plans,
you who trust that all will be right in the end
when a good end often seems far from sure;
you who search My words in every step,
seeking to know and follow My intent;
you who bear My crosses over and over,
and hear the "He is risen!" again and again,
and repeat it louder and louder to everyone we meet
by who you are,
and hence enkindle hope,
a fire that can never be contained;
you, heart-of-My-heart,
you bring Me great comfort.