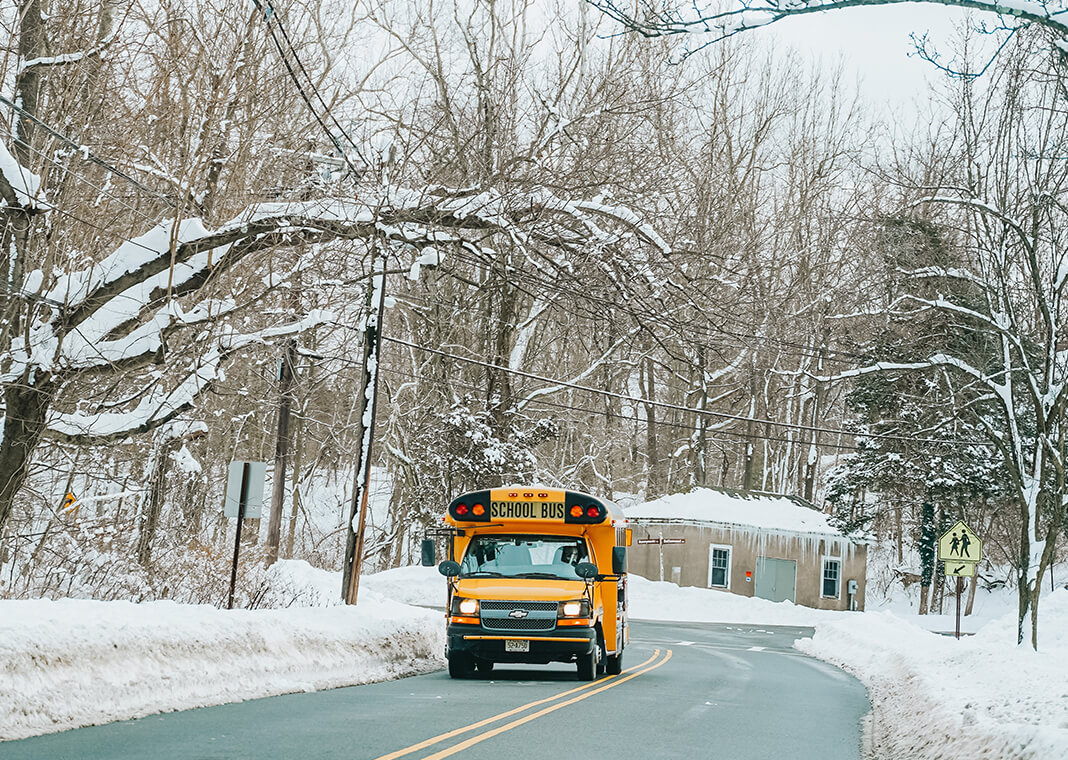 The night before my daughter started middle school, I found her alone in her room, curled up on her bed, her eyes welling with tears. She would be going to a new school where she had to change classrooms six times a day, knew nobody, and had to figure out the dreaded built-in locker combination lock. As I sat next to her and rubbed her back, I assured her that she was more than capable of negotiating all those new experiences.
"I'm not worried about any of that," she said. "It's the bus ride. I have never ridden on a school bus before, and I just don't know what I'll do if the other kids are mean or if I don't trust the driver or if I want to get off."
She had obviously seen too many school bus bullying scenes in movies. She had been carpooling with friends since her first day of Kindergarten, so the school bus was a complete unknown, and worse, out of her (or my) control. Even standing alone at the bus stop a few houses down was an unknown experience to her. I could have come to her rescue and offered to follow behind the bus on the first day, but I sensed this was one of those moments she needed to go through on her own. She needed to find the courage to face the unknown and accept she wasn't in control.
Why is it that our first tendency when faced with an unknown future is most often fear or worry? Stewing on the "What if… (insert worst-case scenario)" is a red flag heralding the spirit not of God is busy at work. Time and again Jesus repeats, "Be not afraid," and, "Peace be with you." Yet we jump so readily to fear of the unknown and the desolation that follows in its wake. The only thing we can know for sure about the future is that God will be fully present with us when we get there, and it will be filled with invitations to grow in and act out of love. The unknown is where we grow into the people we are called to be.
The unknown is where we grow into the people we are called to be.
Whether facing a first school bus ride or taking our last breath, St. Ignatius would say facing the unknown is not about seeking to know and control the situation but trusting that God will be present with us no matter what we face. With the grace that comes in the Fourth Week of the Exercises, we discover blessings out of darkness. It may take months or years to recognize those blessings, but, looking back, we recognize that God has been with us all along. Leaping into the unknown with the grace of courage allows us to fly and to become the people we are called to be.
The next day when my daughter stepped onto the bus, Cody, the driver, greeted her warmly. She noticed he affirmed each student as they boarded. It turned out there were only eight students on the route so everyone had a private seat. Riding the bus became the highlight of my daughter's days. Cody let the young people play music, drove them through a fast-food drive-through a few times, and even rerouted the bus so my daughter didn't have wait in the cold. He would just stop right in front of our house. One ridiculously icy morning, he stopped the bus, got out in his bare socks, and walked her down the icy driveway to be sure she got on the bus safely.
Now I think about those days when I am facing my own unknown future, and my eyes well up with tears of consolation. God was driving the bus, and I can trust God will be driving mine as well whenever I venture into the unknown.
Photo by DA Capture on Pexels.