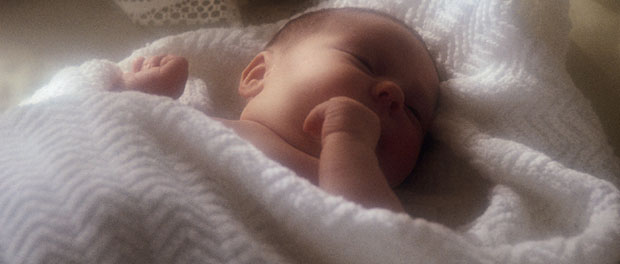 As new parents, my husband and I are learning quite a bit these days.
The past few weeks have been filled with new sights and sounds, new hopes and new fears. In the midst of it all, we are frequently offered advice that often is unsolicited, well-intentioned, and contradictory. And so we nod and we listen and let it wash over us, soaking in what seems worthwhile.
And we are working first on listening to our son, trying to read his cues and coos as he learns to tell us what he wants in the best way he can. Of course, this kind of vigilance can be exhausting.
A frequent conversation with my husband goes something like this:
Me, speaking about our son, as my husband passes his crib: Is he breathing?
My husband, pausing briefly: yes
Me: Are you sure?
My husband: yes
Me: Can you just double-check?
My husband, giving me a look and then dutifully pausing a second time: yes
So I am trying to ask God to quiet those fears and worries, to help me to be present to my son, not out of worry, but with a sense of joy and love. Of course, God's response to this is sometimes as hard to interpret as my son's coos or cries. Still, I work toward finding that balance.
Late one warm evening, the light from the alley outside our apartment sneaks through the window but is not enough to illuminate my son's face as he lies sleeping in the co-sleeper in our room. And so I lean in close to him and hold my own breath for a moment in order to listen for his. And I hear his tiny breaths, and I smile and go back to bed. And then I hear a tiny coo and gurgle, my new favorite sounds. I bless him. Then I give thanks for that still, small voice that tells me so much without any words at all.