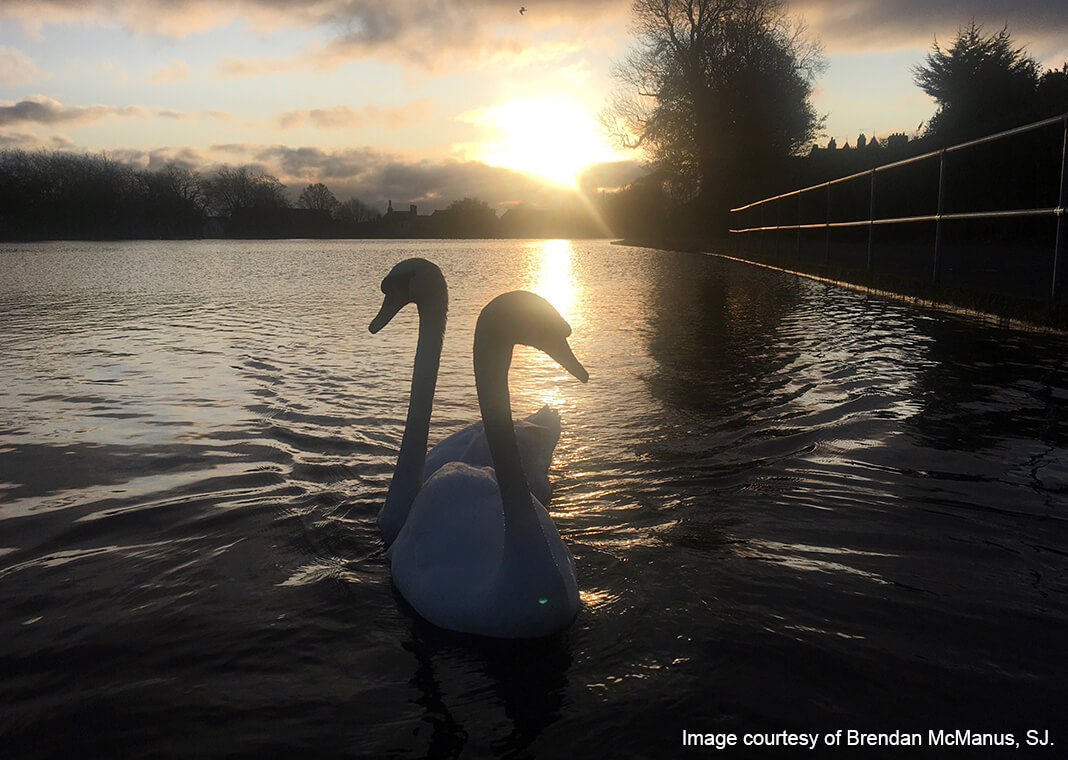 Editor's note: Throughout July, we're celebrating 31 Days with St. Ignatius, a month-long celebration of Ignatian spirituality. In addition to the calendar of Ignatian articles found here, posts on dotMagis this month will explore ways of Experiencing God in the Ordinary. The inspiration for our theme is the new book by William A. Barry, SJ.
There's no denying the extent of the crisis that we are living through. The COVID-19 lockdown has restricted movement, reduced work opportunities, and given us a lot of time at home. In our small Jesuit community in Belfast, everyone was feeling the pressure. Not being able to get out in nature was especially tough (We were restricted to limited exercise "from the front door."), though the nearby Victorian Waterworks Park provided me with some of my best early morning moments, which sustained me during the day. Just to see the explosion of color and new life as spring unfolded in exceptionally good weather counteracted much of the gloom.
I managed to transfer a lot of my work, spiritual direction and other meetings, onto electronic media with teleconference tools. However, managing my emotions and keeping focused on the positive was crucial for me. I relied heavily on my Jesuit training to be able to read my feelings, respond well, and act in a compassionate way. In many ways it felt like an extended retreat! In Ignatian terms, the main process was finding spiritual freedom or detachment: the ability to roll with difficult situations and find a way through without getting caught in expectations or wanting to be in control. It reminded me of the Jesuit 30-day retreat (the Spiritual Exercises) in its intensity, restricted movement, and lack of social contact, and also its spiritual insights.
After the second month, I noticed that a lot of my initial energy and enthusiasm had gone, and it became more of a long haul, a quiet acceptance of the reality and trying to move at a slower pace. I was very conscious of the suffering that others were enduring and trying to pray in solidarity with them. We were fortunate to be able to celebrate daily Eucharist in our community, and the prayers of intercession for others were heartfelt.
Sunday nights were my time to reflect on the week (a practice from my Tertianship year). This reflection exercise, an extended Examen, brought out unexpected little gems of encouragement and slivers of light in the darkness. I marveled at how I managed to keep working despite everything, especially how I was still able to write and communicate. In fact, some of my best writing happened during this crisis. Having the time and the invitation to express myself allowed the words to flow, and I produced more articles than normal.
Overall, I will remember the COVID-19 crisis as a time of review, memories, allowing things to surface, and looking back over the past. God was walking close by me in those days, especially when I needed help. This time was a mix of different experiences, some very testing, and prayer was about trying to process them. On my best days I would try to see them as God sees them, using the Examen format to find gratitude. With the help of visits to my local park, I ultimately found peace.
---
Today's featured article in 31 Days with St. Ignatius is Five Gifts of Ignatian Spirituality for the Aging by Barbara Lee. #31DayswithIgnatius