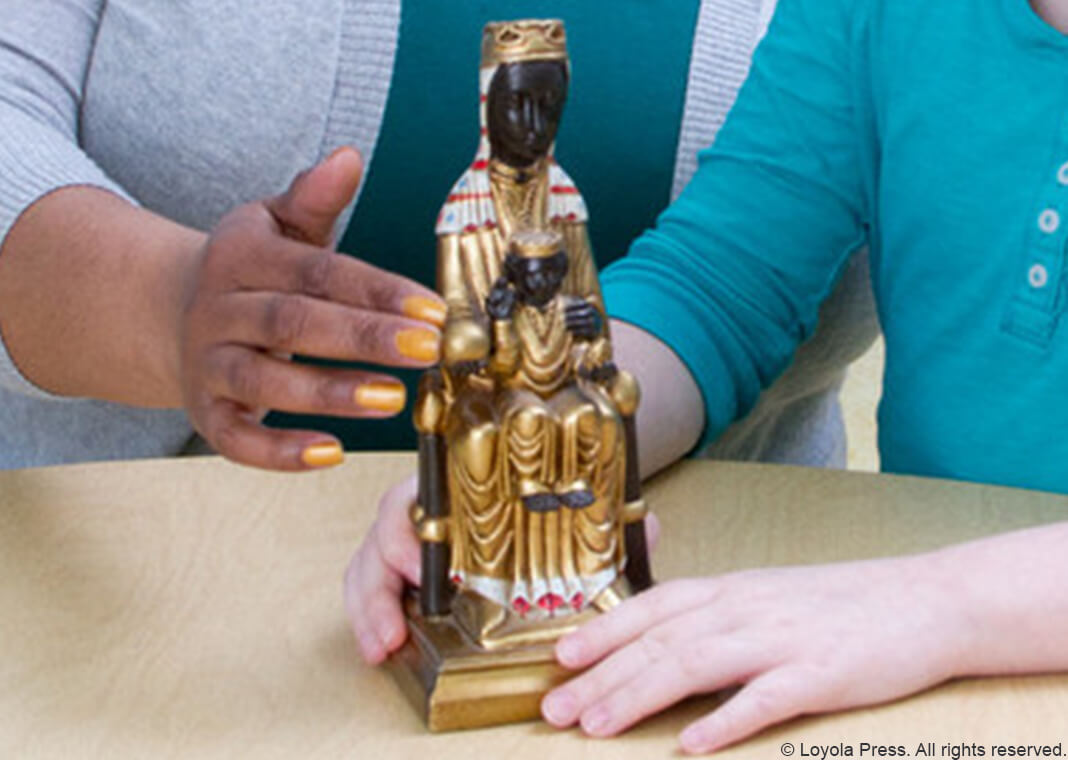 I often feel a kindred connection to St. Ignatius in my prayer life. Most recently, I have felt this growing connection in our shared love of and devotion to Mary. This should not be a surprise to me by any means, as it was while making the Spiritual Exercises over a decade ago that I first really understood Mary. The Exercises invite us to pray with Scripture, and as we do, pieces of our lives are mirrored in the experiences of Mary and Jesus. It was in our shared experience of motherhood that Mary showed me Jesus' humanity.
Since that life-changing experience, Mary's gifts of accompaniment and intercession continue to strengthen my faith and invite me deeper into a relationship with her Son. She helps me say yes with boldness to her Son's invitations in my life. Every day, I entrust my faith, my marriage, my motherhood, and my ministry into her hands. I call on her to pray with me for my husband and children. I drew on her strength while walking with my grandfather to his final breath. I invite her to stand by my right shoulder before every talk or retreat I give, and I often call Ignatius to come to my left. Jesus is always invited to stand in front of me. Before my books were published, I entrusted them into Mary's hands to carry out into the world, promising I would go wherever her Son led me.
Mary plays a prominent role in my daily life. It is in recent years I began to understand how she played a prominent role in Ignatius's life too. Throughout his life, we see important moments of his relationship with Mary. Let's take a look at a few of them.
Mary and the Conversion of Ignatius
When he was healing in bed after the cannonball injured his leg, Ignatius discerned if he would follow Christ and model his life after the saints or continue his soldiering path. As it notes in his autobiography, when he made the choice to follow Christ, his choice was affirmed by a vision of Mary and Child: "One night, as he lay sleepless, he clearly saw the likeness of our Lady with the holy Child Jesus." (Joseph N. Tylenda, SJ, A Pilgrim's Journey: The Autobiography of Ignatius of Loyola)
Defending Mary
One of the well-known and humorous stories of Ignatius occurs when he was riding on a road to Montserrat. A man bad-mouthed Mary, and Ignatius let the donkey he was riding on decide if he would kill the Moor for dishonoring Mary. Thankfully, the donkey took the path that led to the man's life being spared. Ignatius continued on his way to Montserrat.
Vigil at Montserrat
Ignatius spent three days in prayer before Our Lady of Montserrat. In an act of commitment to Christ, he lay down his sword in front of the Black Madonna.
Another Vision
After being ordained a priest, Ignatius waited a year before celebrating Mass. During that time, he asked Mary to place him with her Son. Shortly after, Ignatius had a strong prayer experience that helped him see clearly God place him with Jesus.
Triple Colloquy
Many of the meditations in the Spiritual Exercises draw from Ignatius's own experiences of prayer. With Ignatius's deep love of Mary, it is no surprise, then, to find her a part of the triple colloquy in the Exercises. I frequently turn to the triple colloquy in my prayer. It continues to help my relationship with Mary to grow. Each time I pray it, my kindred connection to Ignatius grows also.