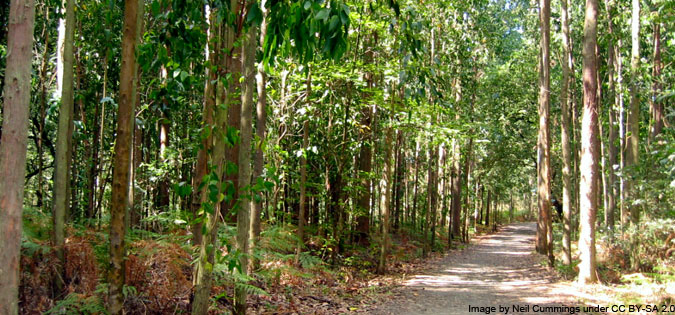 I recently returned from walking part of the Camino de Santiago in Spain, along with other faculty colleagues exploring the continuation of a recent course for students on pilgrimage. Seven of us traveled through mountains and forest trails, via small cities and pig farms, walking 12 to 16 miles a day with all our necessities carried in our backpacks. While I am still integrating what the experience means to me, a few moments stand out.
Each morning, one of us would begin by sharing a reflection: a quote, prayer, or poem that was personally meaningful and relevant to pilgrimage. We would then walk together in complete silence for about 45 minutes as we began our early morning journey, not long after sunrise. One of my friend and colleague's contributions especially resonated with me:
The man who finds his homeland sweet is still a tender beginner; he to whom every soil is as his native one is already strong; but he is perfect to whom the entire world is as a foreign land. (Hugh of St. Victor, Didascalicon)
Only a day earlier, I had commented to a different friend how much walking on the Camino reminded me that I feel more or less at home anywhere in the world. I like the freedom of being "on the way" as well as the simplicity of living out of a small backpack without being overly encumbered by too much "stuff" (though even there I often found myself fussing overly much to find this kind of blister bandage or that sock somewhere in the depths of my backpack). There is a kind of deep contentedness of knowing that one can feel at home anywhere in the world. So hearing these words, I began to wonder how there might be a still more perfect way.
I imagine that Hugo himself was pointing to the idea that this world is not our final home, that we have a kind of homesickness for our final destination as pilgrims in this life, for our true home with God. Everywhere is home, yet nowhere is fully home on the spiritual path.
At the same time, a more decidedly contemporary interpretation also occurred to me: understanding all the world as alien or foreign means respecting other beings in their "otherness." We need to remember that the world is not "mine" but belongs in a deeper way to God and to itself. The towering eucalyptus trees in the forest have their own value, regardless of whether I admire them or not. My friends and colleagues are beautiful mysteries, never fully known, even as I am not ever fully known to myself. God is God and to be loved not for what God does for me but simply for being God. The world and God have a value beyond my place in them—a very freeing idea, indeed.
Image by Neil Cummings under CC BY-SA 2.0.