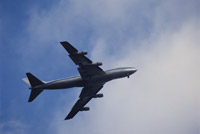 As I sit here toward the back of the US Airways jet headed from Philadelphia to Brussels, it seems like a good time to write my first post for this blog.
Ignatius and I find ourselves in very different situations leading up to the same pilgrimage. Ignatius felt his was a pilgrimage of necessity after his conversion. Our pilgrimage, on the other hand, is more out of convenience. We saw an opportunity to take some time off work this summer and God said, "Go, you idiots!"
Ignatius began his pilgrimage in his home town of Loyola—the same place we will begin. However, we first had to travel 5000 miles by airplane and bus to arrive there. As I sit on one of those flights right now, I am disgruntled by the lack of individual movie screens—especially since my sleeping pills only seem to have made me slightly more tired than before. What an inconvenience to have everyone on the flight watching the same show on the same screen.
All of this makes me realize how different our journey is from Ignatius's. We have the luxury of iPhones, GPS, music, airplanes… all which will make our own journey much more possible and safe. Yet with all these advantages I still am tempted to say Ignatius had it easier. After all, he had a burro and was not partaking in this task during the middle of summer.
At the end of the day, I know we have it much easier. Setting out without concrete plans or directions, Ignatius had to rely on his faith in God rather than the iPhone.
We hope that by the end of our pilgrimage we will have developed a greater trust in each other and in God. We particularly look forward to experiencing Ignatius's world that coincides with the world of our journey.
Please pray for our continued development in faith throughout this journey. You all will continue to be in our prayers.
Greg and Ruth Herrle are sharing their story on the Camino Ignaciano, or the Ignatian Way pilgrimage through Spain.
---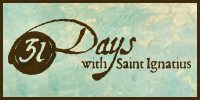 31 Days with St. Ignatius begins today. Please join us in this month-long celebration of Ignatian spirituality.