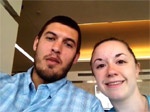 We've mentioned before the Camino Ignaciano, or the Ignatian Way pilgrimage through Spain. Boston College alumni Greg and Ruth Herrle departed yesterday to begin this pilgrimage and will be sharing some of their experiences along the way here at dotMagis. Today we meet them in this video.
Greg writes of the goal for the journey, "We hope that we can learn some of the same lessons Ignatius learned and meet some people who Ignatius may have met in our present-day world."
If you're receiving this via e-mail, click through to watch the video Two Pilgrims Set Out on the Camino Ignaciano.