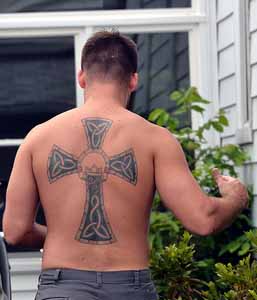 It was a small moment, and one I have thought about for several weeks.  As I was stopped at a traffic light heading home from work one afternoon, I noticed two young men pushing a wheelchair up a steep hill.  In the wheelchair was a third young man, whose arms rested unmoving on his lap.  They were all talking as they moved forward, but I could see the strain of their push up the incline.
I wondered idly where they were coming from – two hospitals are within blocks.  Who is the young man and how did he end up in a wheelchair?  As the light changed, they had reached the top of the hill and one of the friends opened the door so the wheelchair could be rolled into the corner store.  They had reached their destination.
I had driven a block before I realized that the corner store was a tattoo studio.  They were going to get tattoos.  It seemed so improbable.
Did the young man in the wheelchair want a tattoo?  His body was probably much more subject to scrutiny and examination than the rest of ours.  Maybe he just wanted to decorate it.  Or add some words that had special meaning for him.  Certainly he would not have made the difficult journey to that shop just to watch, so he was getting some kind of tattoo.
Perhaps the three young men — in my mind they were childhood friends — had decided to all get tattoos as a sign of their long brotherhood.  Maybe the one in the wheelchair had gotten bad news, and the others wanted to cheer him up.
I will never know who they are or what was behind that long trip up the hill, but there seemed to be something sacred about their trip.  It was friends being together, doing something many young men do.
I am not a fan of tattoos.  At 58, I am beyond the age where that has any appeal and the permanency of it makes me think of it as a mistake.  But now those young men have given me a new image of tattoos.  We are all children of God and marked with God's love in a permanent way deep in our very selves.  "I have called you by name"¦You are mine."When I think of those three young men, I see a sacred love between them.  One or more of them will be forever marked and they will all remember a day when their love for each other made them take the trip up the hill.