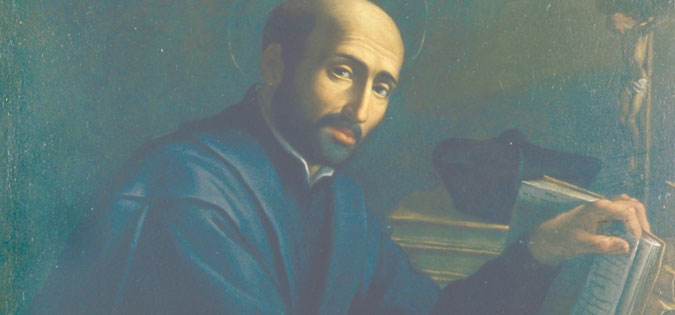 July 31 is the feast day of St. Ignatius Loyola, founder of the Society of Jesus (the Jesuits), and a man whose life was dedicated to introducing people to Jesus and encouraging their conversations with him—their prayer. So let's approach this post with a focus on Ignatian prayer.
First I want to point out that the Society of Jesus was the first religious order to move away from the practice of praying the Divine Hours. That is, they did not come together as a community several times a day to pray together. From the beginning, their idea was to be out in the world doing all kinds of evangelistic work, and they didn't want to be pulled from that work back to a monastery every few hours. You might think of Ignatian prayer as prayer on the move.
However, the Jesuits used a portable prayer form called the Examen. This is simply a prayerful review of the day or of the past few hours. It doesn't take long, and you can do it anytime and anywhere (many Jesuits do it at noon and evening), but it can readjust your soul in the midst of whatever is going on. You review in order to express gratitude for where God has been present and to ask for help in matters that aren't going so well.
St. Ignatius also stressed that we should have a personal relationship with Jesus, getting to know him through the Gospel accounts of his life and praying to him directly. In a number of the prayers in Ignatius's Spiritual Exercises, the person praying is encouraged to pray with Jesus in a conversational way.
And St. Ignatius discovered through his own long conversion and spiritual formation that the Holy Spirit will work through a person's imagination during prayer. He had learned to trust this process as he daydreamed and reflected and prayed. He also discovered a lot about discernment that, centuries later, psychologists and pastors affirm as wise and practical.
If you were to describe your own prayer spirituality—in 50 words or less—what would that description include?